Watch Nadine Marie talk to celebrities and athletes at the ESPN Super Bowl Party held at Westworld in Scottsdale, AZ for Super Bowl XLIX. See red carpet interviews with: Tim Tebow, WWE Total Divas The Bella Twins, Summer Rae, Jeffrey...
CSI: Cyber star Bow Wow talks to Nadine Marie after getting off the plane with Usher & Jermaine Dupri, and driving into the Hollywood Reporter/Billboard Party in a new Mercedes Benz....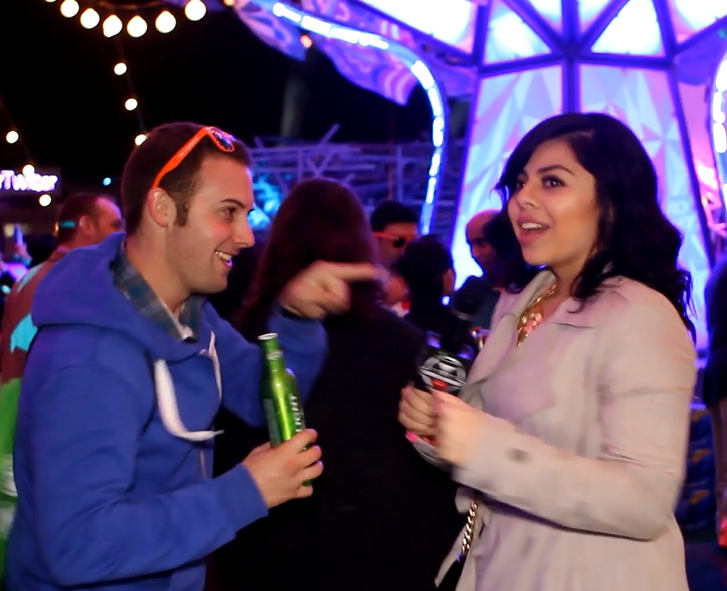 After three days and nights of spontaneous Super Bowl fun, Bud Light House of Whatever wrapped up the weekend on Sunday with one final day of Up For Whatever activities, including wake-up pep talks and a Super Bowl pre-game tailgate...
Stars came out in droves to see Rihanna perform at the DirecTV Super Saturday Night Super Bowl Party in Arizona the night before the big game. Kanye West & Paul McCartney made surprise appearances onstage as A-list actors mingled and...
Watch coverage of the Playboy Super Bowl Party red carpet, as stars flocked to one of the biggest parties of Super Bowl Weekend. Inside A-listers such as Chris Evans, Kellan Lutz, Jamie Foxx, Nelly, Nick Cannon mingled with friends, and many...
The Leather & Laces Party was an absolute blast that brought out the A-list crowd to the Bentley Project Gallery in Phoenix.  John Legend, Chrissy Teigen, Alyssa Milano, Craig Robinson, Adam Richman, Gabe Saporta (Cobra Starship), Victoria Asher (Cobra Starship) and more attended...
Head chefs from 40 restaurants around the country, over 40 NFL Legends (over 20 Hall of Famers), Alyssa Milano, Shawn Johnson, Adam Richman, 2015 Miss America Kira Kazantsev and many more athletes, celebs, & VIPs came out to Westworld in...
The DirecTV Super Fan Fest, held at the Pendergast Family Farm, was thrown a curve ball  by the two-day rain showers, yet many fans turned out to see the national headliners on the HGTV Lodge Stage. Super Sunday HQ's Kirsten...
LeSean McCoy couldn't repeat as Madden Bowl champion on Thursday night in Scottsdale, as Arizona Cardinal Patrick Peterson took the Madden Bowl Trophy, along with a cool customized XBOX one and a congratulatory handshake from comedian Kevin Hart. Though the...
Watch Nadine Marie talk to Ron "Jaws" Jaworski at the Cigars with the Stars Super Bowl Party at Dos Gringos in Scottsdale, Arizona for Super Bowl XLIX....