02 Feb

1 OAK POP UP SUPER BOWL PARTY WITH THE MIGOS



1 OAK POP UP SUPER BOWL PARTY WITH THE MIGOS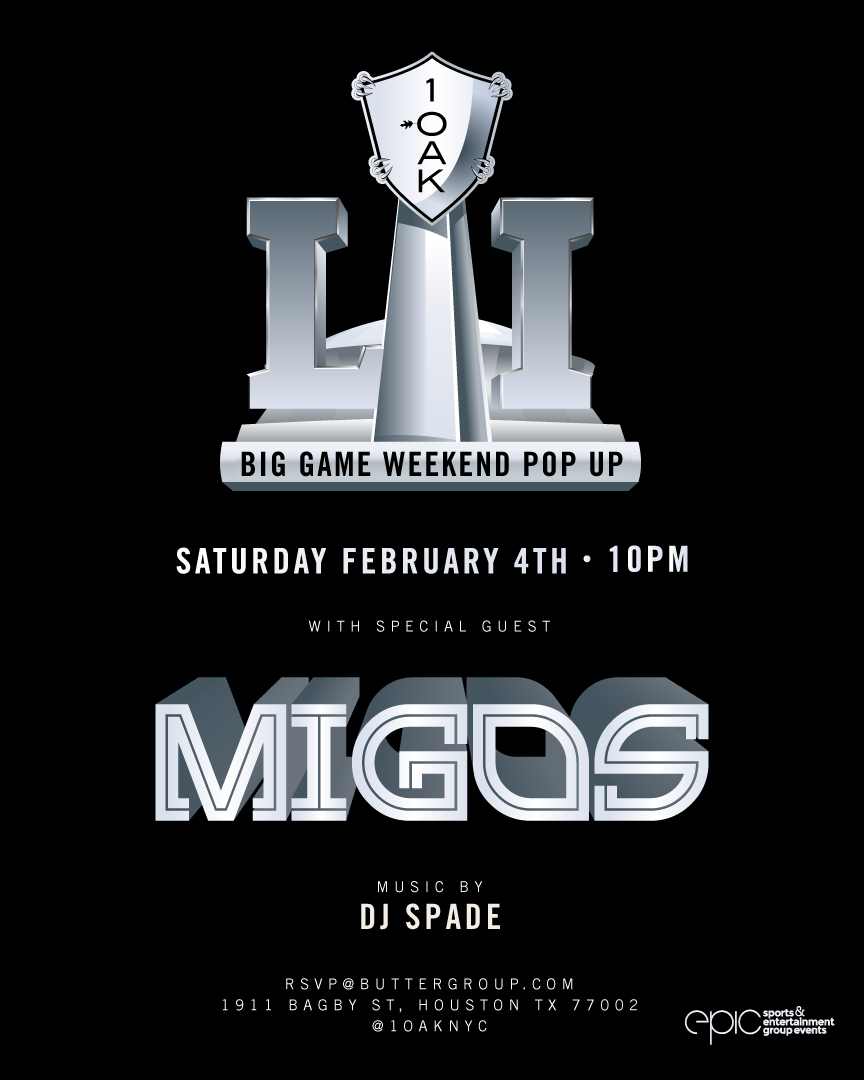 1 OAK is so cool that using the word "lit" to describe the scene on Saturday night would be a disservice. Let's just say that with the Migos involved, and DJ Spade, chances are that athletes and celebs will end up here after they've made their appearances at some of the other events. The Atlanta trio Migos are on fire right now. Their collab with Lil Uzi Vert, "Bad & Boujee," is the unofficial anthem of 2017 Super Bowl nightlife as we know it. In fact, at last weekend's Pro Bowl, NFL players couldn't contain their dance moves on the sidelines when the game began. This is definitely one of the top parties of Super Bowl weekend. The event is being produced by Epic Sports & Entertainment Group Events, a New York City Company that specialized in turn key, pop-up events for elite brands, athletes and celebrities. Any questions about ticket sales please email: orders@epicsegevents.com.
DATE: Saturday, Feb 4
TIME: 10PM –
LOCATION: 1911 Bagby St – Midtown, Houston, TX 77002
TICKETS: $1,000 & up. Visit the official site at 1OAKSB.com
ABOUT 1 OAK

1 OAK , born of the namesake catch phrase, "1 of a kind," has endured continuous waves of competition and outlasted the rise and fall of countless nightlife trends. Located on 17th street in the heart of Chelsea, it remains at the center of New York City nightlife culture. Boasting a rotation of world-renowned DJs and surprise performances, a captivating interior and a stellar standard of service, 1 OAK provides a nightlife sensibility that caters to even the worldliest of partygoers.
Fueled by the success of its Chelsea flagship, The Butter Group opened a Las Vegas outpost of the iconic club within the Mirage Hotel & Casino on New Year's Eve 2012. Since opening its doors, 1 OAK Las Vegas has ushered in revelers from across the globe, who are seeking all the style and substance of the original, along with the extravagant accents that have grown synonymous with Sin City. In The last year 1 OAK has welcomed its newest locations in Mexico City, Los Angeles and Southampton.
About Epic & Co.
Epic Events provides turn key events for brands and celebrities in the sports and entertainment industries. Epic SEG Events works closely with its parent company, Epic Sports & Entertainment Group, that offer financial advisement, accounting and business management with those brands and celebrities to make sure their brand's financial well being is being protected all while being promoted.
Nothing is more critical to success than the relationships with clients. Today, companies and organizations face great challenges. The turbulent economy, increased competition and a decrease in demand, have all placed an urgent need for innovative solutions to bolster the exposure and success of events, and more so, company exposure. Epic Events has proven that the details are what define these successes.
By putting into place effective and strategic marketing plans and keeping our finger on the pulse of each event, we have been able to move sales and increase profits. Epic Events uses the latest in digital and social media as well as the utilization of traditional print, radio, television and grass roots marketing techniques. We approach each project with a fresh perspective and formulate the right mix needed for successful and profitable events. Epic has the expertise from a team with more than 40 years of experience in the business of sports, entertainment and hospitality.
Summary
Event
​
1 OAK MIGOS SUPER BOWL PARTY HOUSTON 2017
Location
​
1 OAK Pop Up

,

1911 Bagby St

,

Houston

,

Texas

-

77074
Starting on
Ending on
Offer Price