30 Jan

WED NIGHT: NFL NETWORK'S MIKE SILVER, EXTRA'S CHARISSA THOMPSON & ESPN'S JEFF DARLINGTON HOST "CELEBRATE THE GAME" KICKOFF PARTY



WED NIGHT: NFL NETWORK'S MIKE SILVER, EXTRA'S CHARISSA THOMPSON & ESPN'S JEFF DARLINGTON HOST "CELEBRATE THE GAME" KICKOFF PARTY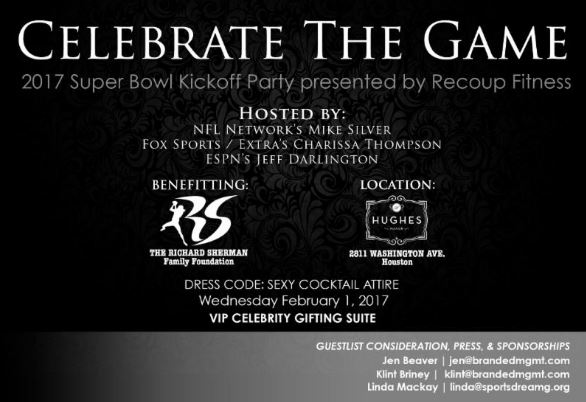 BRANDed Management announced today that three popular network personalities will come together to kickoff the week of parties in Houston in celebration of Super Bowl 51.  On Wed., Feb. 1, 2017, NFL Network's Mike Silver, Fox Sports Charissa Thompson, and ESPN's Jeff Darlington will host the annual Super Bowl Kickoff party presented by Recoup Fitness at Houston's Hughes Manor. Red carpet arrivals begin at 9:00 p.m. Proceeds from the auction will benefit the Blanket Coverage, Richard Sherman Family Foundation.
"I am thrilled to help Charissa and Jeff kick off Super Bowl week in style," said Silver. "My co-hosts and I look forward to welcoming a diverse collection of sublime partygoers into an inclusive and electric scene. And I cannot think of a more fitting foundation to benefit from this event than Blanket Coverage, The Richard Sherman Family Foundation. The great Magic Johnson inspired Richard, who has provided low-income students with school supplies, clothing and other support to help them achieve their goals."
Hughes Manor, which marries a sexy atmosphere with beautiful surroundings, will host the Wednesday night affair. Hughes Manor is located centrally in the Washington Heights area at 2811 Washington Ave in Houston, Texas.
The annual kickoff event has developed a reputation as one of the premiere parties during Super Bowl week and has featured attendance by sports & entertainment's hottest athletes and celebrities including, Michael Strahan, Kim Kardashian, Rob Gronkowski, Ray Lewis, Colin Kaepernick, John Elway, and many others. The NFL's most noted coaches and sports network personalities have all attended in the past and are expected to do so again at this year's event. Members from both teams playing in Super Bowl LI (The Atlanta Falcons and New England Patriots) are also scheduled to attend.
The 2017 Super Bowl Kickoff Party is being produced by Los Angeles-based sports and entertainment agency BRANDed Management and is by invitation only. Event partners includes: Recoup Fitness, Grandstand Sports and Memorabilia, Dr. Hourglass, Instavit, Warren Moon's Sports 1 Marketing, and Hughes Manor.
For additional event information or to inquire about guest-list consideration, sponsorships, or press, please be in contact with: Jen Beaver, 317.496.7898, jen@brandedmgmt.com or Klint Briney, 305.915.7652, klint@brandedmgmt.com. Press interested in covering the event must be credentialed.
ABOUT THE RICHARD SHERMAN FOUNDATION:
Blanket Coverage, the Richard Sherman Family Foundation, was formed in 2013 by Richard Sherman to provide students in low-income communities with school supplies and clothing so they can more adequately achieve their goals.  During his high school days, his childhood idol Magic Johnson came to Dominguez High School in Compton, CA and spoke to Richard and his classmates on the importance of setting and achieving your goals. Since that time Richard has made it his focus to preach those same sentiments and help students achieve their fullest potential.
ABOUT RECOUP FITNESS/THE STINGER:
"The Stinger," a 24-year-old entrepreneur's invention, has been deemed an overnight success by Professional and Collegiate athletics, used by NFL properties, including the New York Jets and San Francisco 49ers, and by the Universities of Denver, Alabama, and the Cleveland Clinic. Aspiring and professional athletes are also customers of Matt Hyder's business, Recoup Fitness, a company designed to help athletes recover faster from injury, including players from the Denver Broncos, Minnesota Vikings, Jacksonville Jaguars, Indianapolis Colts and the Chicago Bears. Olympic medalists Corey Cogdell and Lauren Sesselmann credit the product with helping them recoup and get back in Olympic form. Recoup was launched in January 2015, minimizes overall recovery time, and retails for $39.99 USD. Recoup was named to
Men's Fitness
' Ultimate Gear & Gift Guide for 2017 and also been featured on CBS'
The Doctors
. For more information, please visit
https://recoupfitness.com
.
Summary
Event
​
Celebrate the Game with Mike Silver & Charissa Thompson Super Bowl Party
Location
​
Hughes Manor

,

2811 Washington Ave

,

Houston

,

Texas

-

77007
Starting on
Ending on
Offer Price