31 Jan

TURNER IGNITE SPORTS UNVEILS ITS POP-UP LUXURY LOUNGE IN HOUSTON WHERE ATHLETES & CELEBS CAN GRAB SOME COOL SWAG



TURNER IGNITE SPORTS UNVEILS ITS POP-UP LUXURY LOUNGE IN HOUSTON WHERE ATHLETES & CELEBS CAN GRAB SOME COOL SWAG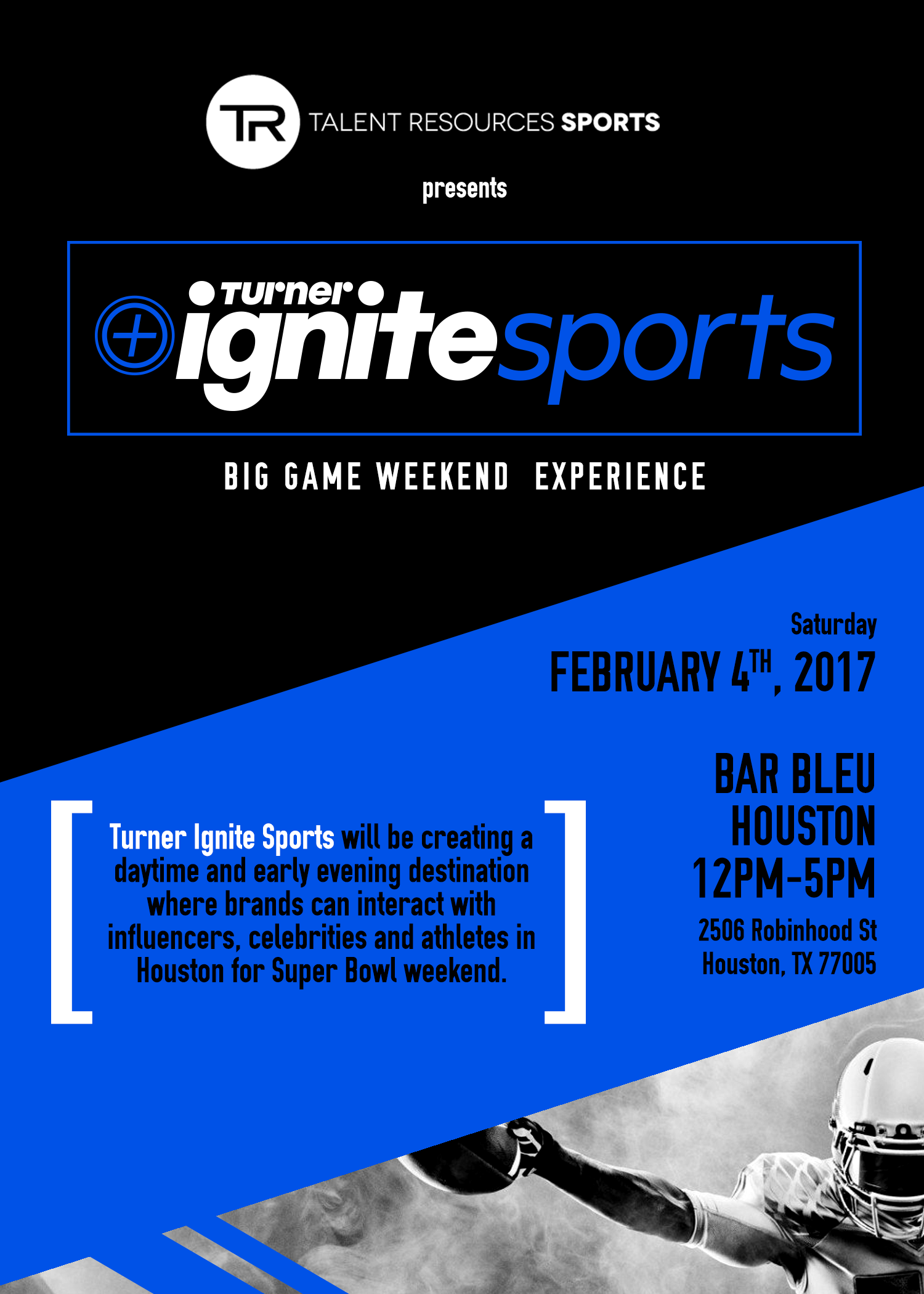 TALENT RESOURCES SPORTS PRESENTS THE TURNER IGNITE SPORTS LUXURY LOUNGE
Turner Ignite Sports and Talent Resources Sports Host an Exclusive Day Big Game Weekend Lounge
On Saturday, from 12PM-5PM CST, The Turner Ignite Sports Luxury Lounge presented by Talent Resources Sports will host a VIP daytime gifting lounge Saturday afternoon during Big Game Weekend. The lounge will feature a live DJ, celebrity appearances, interactive activations, specialty cocktails and light bites, various gifting opportunities and onsite activities where guests will be able to mingle and rub shoulders with Hollywood's elite. Expect athletes and celebs to make a pitstop at Bar Bleu ( 2506 Robinhood St., Houston, TX 77005)  to get pampered and walk away with some cool swag. The invite-only affair will be one of many pop-up Hollywood hotspots in Houston the day before the big game. If you're an athlete or celeb, you can request an exclusive invite to jake@talenresources.com.
ABOUT TURNER SPORTS:
Turner Ignite Sports is focused on reimagining marketing to sports fans. Powered by expansive branded content services, data-rich audience targeting capabilities, first-of-its kind social optimization tools and an unrivaled set of intellectual property, Turner Ignite Sports empowers brands to more easily build meaningful connections with fans and drive return-of-investment at scale. The business unit is backed by Turner's wide-scale audience of diverse fans within Turner Sports' footprint, including high-profile coverage of MLB, the NBA, the NCAA, PGA, the professional esports league ELEAGUE, and Bleacher Report. In addition, the company has digital sales partnerships with the NBA, NCAA and PGA.
ABOUT TALENT RESOURCES SPORTS:
Talent Resources Sports (TRS), a business entity within Talent Resources, facilitates a wide variety of athlete engagements including product placement, personal appearances, and long-term brand endorsements. TRS works with corporate clients to integrate athlete-driven campaigns into an overall marketing strategy. TRS partners with properties and lifestyle brands like Rolling Stone to create fully integrated programs that bring brands, athletes, celebrities, and audiences together. TRS centers these events around big conversations, like big game weekend, to maximize exposure and participation. We exist at the intersection of sports and entertainment.
Summary
Event
​
Turner Ignite Sports Luxury Lounge
Location
​
Bar Bleu Houston

,

2506 Robinhood St.

,

Houston

,

Texas

-

77005
Starting on
Ending on
Offer Price