09 Jan

THE ROAD TO ATLANTA SUPER BOWL PARTIES AND PREGAME TAILGATE: MAXIM BIG GAME EXPERIENCE ATL ROYALTY HEADLINERS FUTURE, JAMIE FOXX, DIPLO, AND DJ RUCKUS



THE 2019 MAXIM BIG GAME EXPERIENCE ATL ROYALTY
ON STAGE WILL BE FUTURE, JAMIE FOXX, DIPLO AND DJ RUCKUS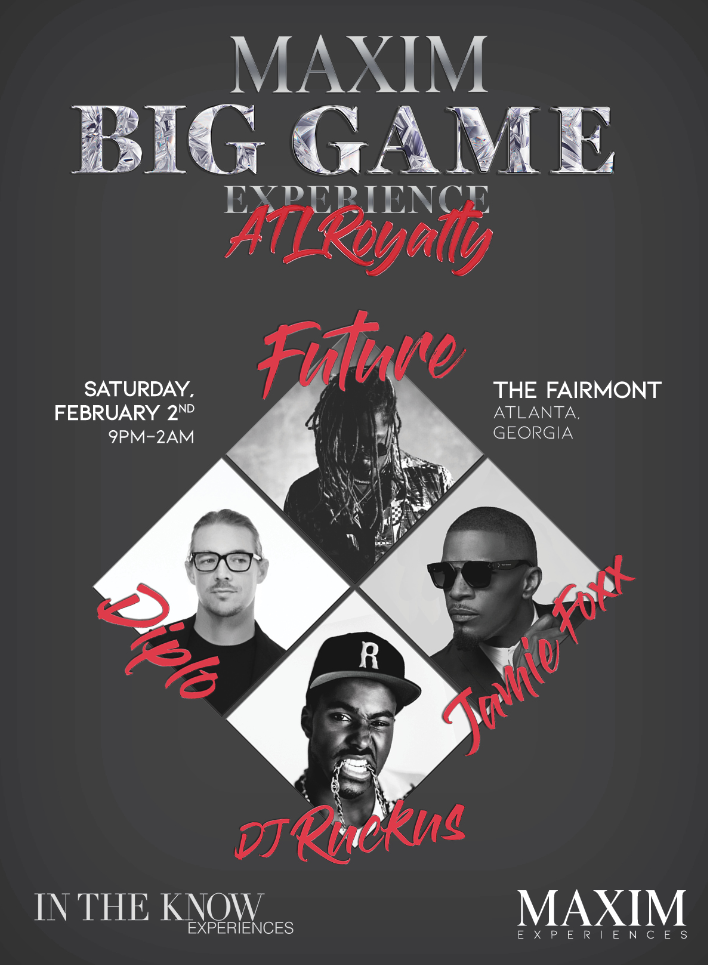 No one, but Super Sunday HQ, can say they've been to the last 9 Maxim Super Bowl Parties. With amazing celebs, incredible atmosphere, gorgeous social media models, and top-notch performers. Maxim Experiences, Lagardère Sports and Entertainment, Rooftop2 Productions and In the Know Experiences will show us all  how to throw an over-the-top, classy party.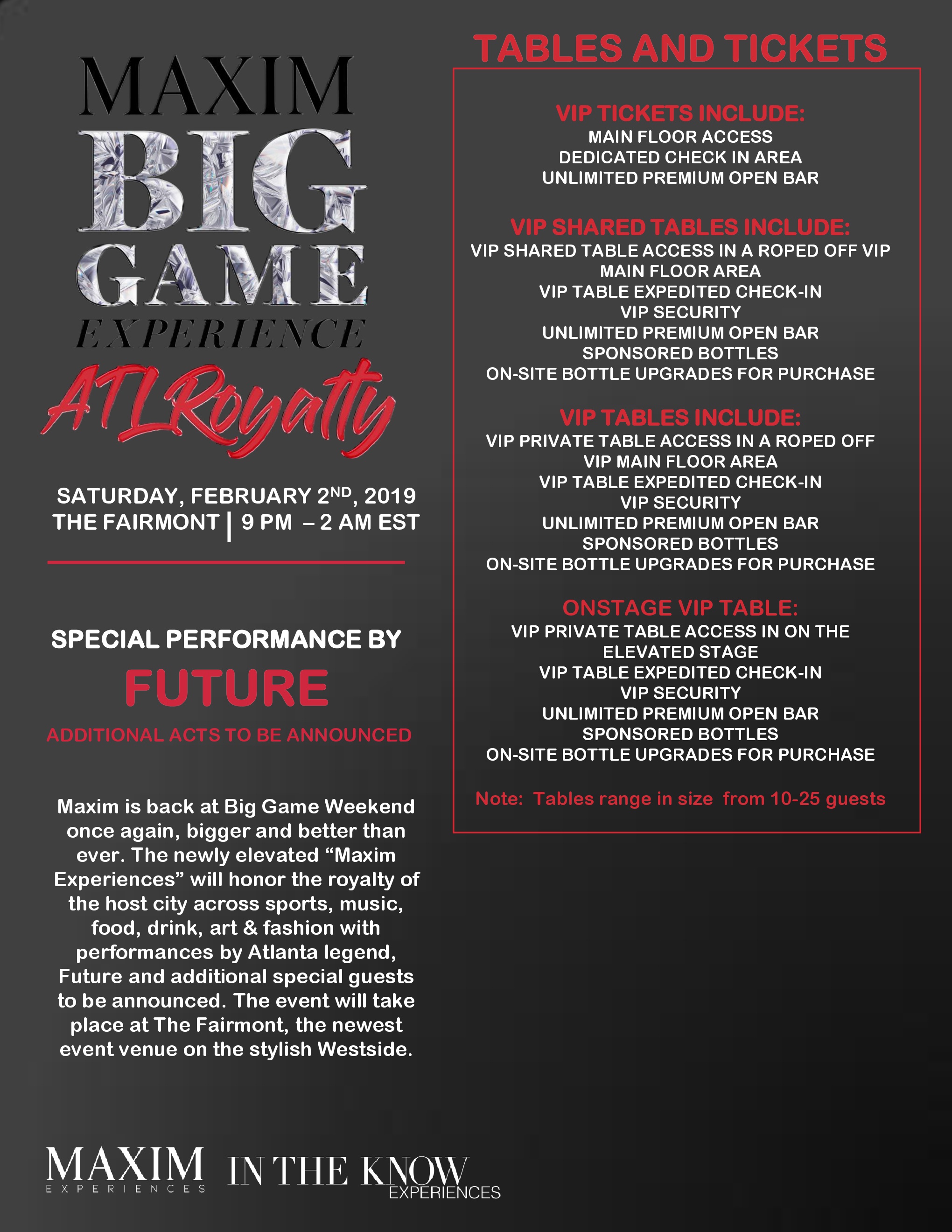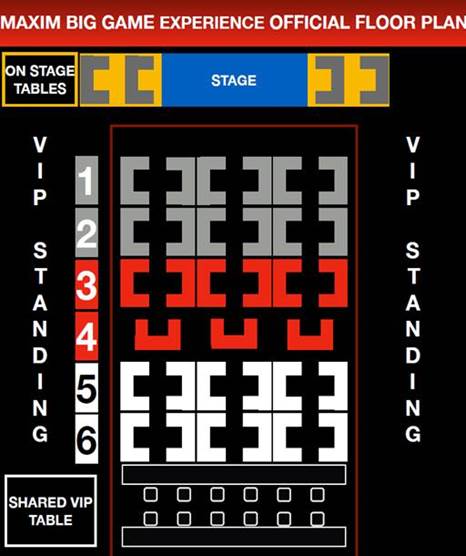 For over the last decade, The Maxim Party  has been in a class of its own, as one of the most sought-after Super Bowl Parties of the year… In 2018, Maxim upheld its dominance as one of the best parties for the Big Game Weekend, for the 12th year in a row, by taking over Minnesota with an amazing performance by Post Malone with many celebs, athletes and VIPs in attendance. Maxim in 2019, plans to once again raise the bar during this milestone weekend of sports and over-the-top events in Atlanta, GA on February 2, 2019 during Super Bowl weekend and will include unique activations across 19,000 square feet of event space at The Fairmont. The Maxim Experiences, a joint venture between MAXIM and global marketing agency, Lagardère Sports and Entertainment, announced today that Future, Jamie Foxx, Diplo and DJ Ruckus will take the stage at the Maxim Big Game Experience. "I can't wait to show out for my city at The Maxim Big Game Experience," said Future. "Atlanta ain't ready for the vibes we bringing!" Expect A-List Celebrities, VIPs and athletes, which in the past have included, A$AP Rocky, Adrienne Bailon, Odell Beckham Jr., Brie and Nikki Bella, Jerome Bettis, Justin Bieber, Nick Cannon, Cardi B, DJ Khaled, Chris Evans, Anna Faris, Fergie, Rashad Jennings, Joe Jonas, Nick Lachey, Lil' Wayne, Ludacris, Post Malone, Floyd Mayweather, Paul McCartney, Anna Lynne McCord, Alyssa Milano, josh Norman, Terrell Owens, Chris Pratt, The Chainsmokers, Travis Scott, Emily Sears and Miss Universe, Pia Wurtsbach.
WHEN: Feb 2, 2019
TICKETS & TABLES: Limited time, Limited Inventory (Tables range in size from 10-25 Guests : To Buy Click here
LOCATION: The Fairmont 1429 Fairmont Ave NW, Atlanta, GA
TIME: 9PM-2AM
COST: $750 & up (Limited Time)
There's only one Super Bowl 53 weekend in Atlanta, Georgia. Don't make the mistake of going cheap with one of the many questionable parties out there.  If this sounds fun to you, then splurge, go for it now, before tables & tickets sell out.
ABOUT FUTURE:
Multi-platinum hip-hop artist and Atlanta native Future, whose seventh studio album comes out on Jan. 18, has released 12 mixtapes and 61 singles over the course of his illustrious career. The Atlanta native's performance will be an ode to the event's theme, ATL Royalty. His chart-toppers include "Commas," "March Madness," "Jumpman," and "Mask Off," among others. Each of his last four studio albums – DS2, Evol, Future and Hndrxx – have also debuted at number one on the U.S. Billboard 200.
ABOUT JAMIE FOXX:
Multifaceted Hollywood talent Jamie Foxx is an Academy-award winning actor, comedian, musician and DJ released his first album in 1994, Peep This, which he also produced and composed. In between the take-off of his comedy and acting career, Foxx released his second album, Unpredictable, in 2005, and it quickly rose high on the Billboard album charts.
ABOUT DIPLO:
Grammy-award winner Diplo is one of the most sought after producers and DJs in the world, known for his genre-defying collaborations and smash hits including Silk City's "Electricity" with Mark Ronson and Dua Lipa, LSD's "Audio" with Sia and Labrinth, Major Lazer's "Lean On" with DJ Snake and MØ and many more. In addition, he's worked with the likes of Beyoncé, Madonna, Justin Bieber, Bad Bunny, M.I.A. and many more.
The Maxim Big Game Experience is produced by Lagardère Sports and Entertainment and Rooftop2 Productions. In the Know Experiences is the event's exclusive hospitality partner and will oversee all VIP operations and experiences. The event is supported by 1iota Productions, Ashley Avery Agency and SportsTrust. 
About MAXIM EXPERIENCES: 
The Maxim Experiences is a joint venture between multimedia company MAXIM and global marketing agency Lagardère Sports and Entertainment that is committed to bringing the MAXIM brand of unparalleled luxury to life via its three annual tentpole events – The Maxim Hot 100 Experience in July, Maxim Halloween Experience in October, and Maxim Big Game Experience in February. As part of the partnership, experiential marketing and production agency Rooftop2 Productions – which is part of Lagardère Plus – handles the live production, develops digital, social and experiential brand activations and facilitates talent appearances and musical performances. For more information on Maxim Experiences including event details, sponsorship packages and tickets, please visit www.MaximExperiences.com and follow on Instagram (@MaximExperiences), Facebook (@MaximExperiences) and Twitter (@MaximExperience). 
SKIP TO 22:24 FOR MAXIM SUPER BOWL PARTY FOOTAGE
Summary
Event
​
Maxim Big Game Experience Super Bowl Party 2019
Location
​
The Fairmont

,

1429 Fairmont Ave NW

,

Atlanta

,

GA

-

77479
Starting on
Ending on
Offer Price