02 Dec

THE ROAD TO ATLANTA SUPER BOWL PARTIES AND PREGAME TAILGATE: HALL OF FAME PLAYERS SUPER BOWL PARTY ATLANTA 2019




HALL OF FAME PLAYERS SUPER BOWL PARTY ATLANTA 2019

The Hall of Fame Players Classic and HOF Players Foundation helps to assist and honor those inductees of the Hall of Fame. The money raised at each of their events will benefit members who are facing difficulties long after the conclusion of their football careers. These amazing events, have been  celebrated at multiple Super Bowl weeks, for countless years and have helped support its members.  These well produced events have always had a very intimate setting where guests get to ask their idols questions, eat beside them and even get to say they watched a Super Bowl with them! Please click on the link for more details about each event and to buy your tickets.
TICKETS:  Purchase Tickets Here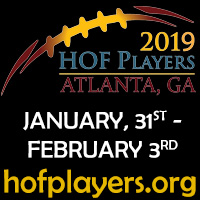 SCHEDULED EVENTS:
PRIVATE WATCH PARTY
SUNDAY, FEBRUARY, 3RD
SETTING THE STAGE FOR AMERICAS GREATEST SPORTING EVENT, THE SUPER BOWL, IS THE ANNUAL HALL OF FAME PLAYERS PRIVATE WATCH PARTY. COME JOIN OVER 20 PRO FOOTBALL HALL OF FAMERS AND NFL LEGENDS FOR A ONCE IN A LIFETIME EXPERIENCE DURING THE 53RD ANNIVERSARY OF THE BIGGEST GAME IN SPORTS.
PRIVATE WATCH PARTY – 4:30PM – LAST DOWN
LOCATION: City Tap House 848 Peachtree St. NW, Atlanta
PURCHASE TICKETS FOR THIS EVENT AND YOU WILL ENJOY, MIX AND MINGLE IN OPEN SEATING AREAS ALONGSIDE THE HALL OF FAME PLAYERS AND NFL LEGENDS WHO WILL BE INTERACTING WITH GUESTS DURING THE BIG GAME
OR
MEET & GREET WITH HALL OF FAME PLAYERS $15,500 
ALL THE HALL OF FAME PLAYERS ATTENDING WILL HOST YOUR TWENTY (20) GUEST IN A PRIVATE VIP AREA ALLOWING YOU THE PERFECT TIME FOR INTIMATE CONVERSATIONS, SIGNATURES AND PHOTOS. INCLUDES ALL THE ABOVE PLUS 10 HOF PLAYERS SIGNING BALLS AND SHARPIES. IN ADDITION TO YOUR LOGO/ NAME FEATURED IN ALL HOF PLAYERS EVENT MARKETING MATERIAL AND SOCIAL MEDIA.
PLEASE CLICK ON LINK ABOVE FOR MORE INFORMATION AND PURCHASING
Summary
Event
​
Hall of Fame Players Party Atlanta 2019
Ending on