15 Jan

THE ROAD TO ATLANTA SUPER BOWL PARTIES AND PREGAME TAILGATE: 2019 BUD LIGHT SUPER BOWL MUSIC FEST





2019 BUD LIGHT SUPER BOWL
MUSIC FEST

Over the past few years, Bud Light has taken over cruise ships, hotels and even an entire town. For its next act, Bud Light and On Location Experiences will roll out the blue carpet for three nights at the First Ever Bud Light Music Festival. These three days will feature unforgettable parties, amazing concerts, larger-than-life performances and surprise appearances from numerous artists and celebrities. With performances by music's leading acts on Thursday: Ludacris, Migos, Lil Yatchy, Lil Baby, Metro Boomin + Special Guests and Lil Jon DJ Set to Friday's: Aerosmith and Post Malone to closing on Saturday with: Cardi B. and Bruno Mars. This will be a weekend of events to remember, at Atlanta's State Farm Arena.

THURSDAY JANUARY 31ST 9PM
STATE FARM ARENA, ONE PHILIPS DRIVE, ATLANTA, GA
EA SPORTS BOWL: LUDACRIS, MIGOS, LIL YACHTY & LIL BABY, METRO BOOMIN & SPECIAL GUESTS, LIL JON AND MORE

FRIDAY FEBRUARY 1ST 
STATE FARM ARENA, ONE PHILIPS DRIVE, ATLANTA, GA
AEROSMITH & POST MALONE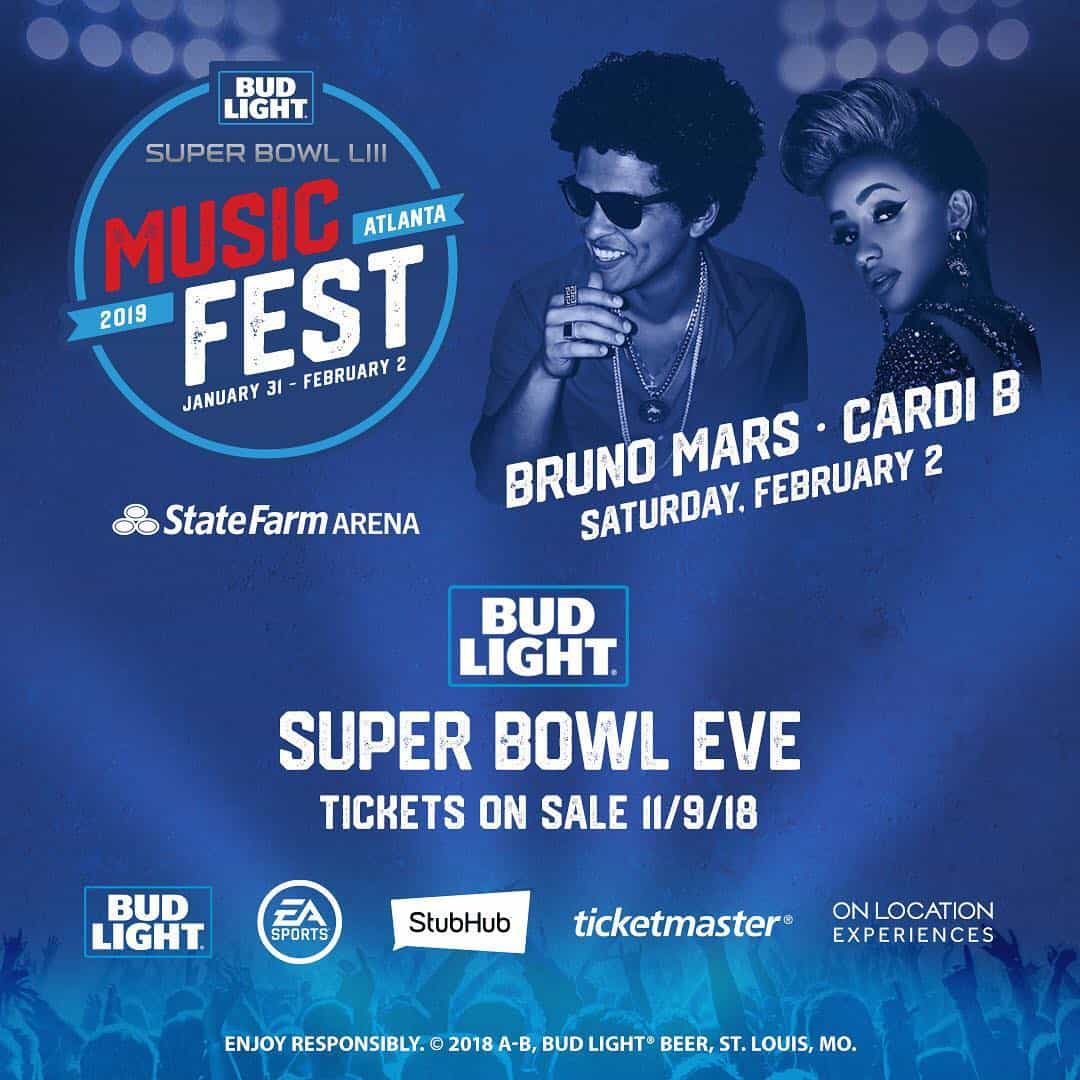 SATURDAY FEBRUARY 2ND
STATE FARM ARENA, ONE PHILIPS DRIVE, ATLANTA, GA
BRUNO MARS & CARDI B.
About Bud Light
Introduced in 1982, Bud Light is a premium light lager with a superior drinkability that has made it the best-selling and most popular beer in the United States. Bud Light is brewed using a blend of premium aroma hop varieties, both American-grown and imported, and a combination of barley malts and rice. The light-bodied beer features a fresh, clean and subtle hop aroma, delicate malt sweetness and a crisp finish that delivers the ultimate refreshment. For more information, visit www.BudLight.com.