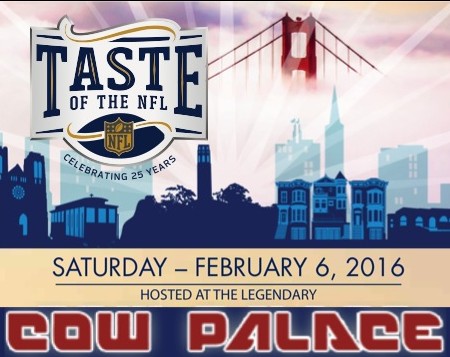 03 Nov

Taste of The NFL Super Bowl 50 Party

Taste of The NFL Super Bowl 50 Party – Taste of the NFL recently announced that their 25th anniversary event will be held at the legendary Cow Palace on Saturday, February 6th in San Francisco. The Cow Palace has a rich history of events. It has hosted The Beatles, The Rolling Stones, Elvis Presley, Nirvana, the Republican National Convention, John F. Kennedy, the San Francisco Warriors, the San Jose Sharks, The Grateful Dead, The Grand National Rodeo, amongst many other events. Tickets for the event are available here at $700 and up. Proceeds from the gathering benefit food banks in each of the 31 NFL cities, with special emphasis placed on the host city food bank. Watch Super Sunday HQ's video from last year's event.
The Party With a Purpose
Taste of the NFL has been working to kick hunger. They have raised more than $22 million over the years, but the need to do more is greater than ever. Visit the official website to learn how you can support their efforts by becoming a contributor or partner in their mission.
Since 1992, the Taste of the NFL (a 501c3 organization) has rallied the country's top chefs and the NFL's greatest players to raise money in support of food banks throughout the United States.
This is done through via three avenues:
• on-line donations during the KICK HUNGER CHALLENGE® (September – January)
• locally hosted Taste Of The NFL events by an NFL team and their food bank featuring their players and local chefs
• The Super Bowl Taste Of The NFL – The Party with a Purpose®.  Held on the eve of Super Bowl in the host city. This event is a unique way to experience exceptional cuisine, meet NFL players and coaches, and support our fight against hunger.
Through the efforts of hundreds of volunteers who help make "Taste of the NFL – Party With A Purpose" the single most successful charitable event at the Super Bowl, the Taste of the NFL organization continues to help feed the 37 million Americans who have turned to their local food banks for assistance. Millions of needs, thousands of families and dozens of new hunger projects have been affected by this major volunteer effort. Their goal: end hunger.
To keep track of all the Super Bowl 50 Parties and events, make sure you visit Super Sunday HQ and get the mobile app, where you can scroll through all the star-studded parties, add Super Bowl events to your calendar, and connect with other Super Bowl 50 partygoers and VIP's. Follow the links to get the #1 Insider's Guide to the Super Bowl:
AppStore: Super Sunday HQ App
Google: Super Sunday HQ App