04 Feb

The Player's Gala With DJ Snoopadelic
The Player's Gala With DJ Snoopadelic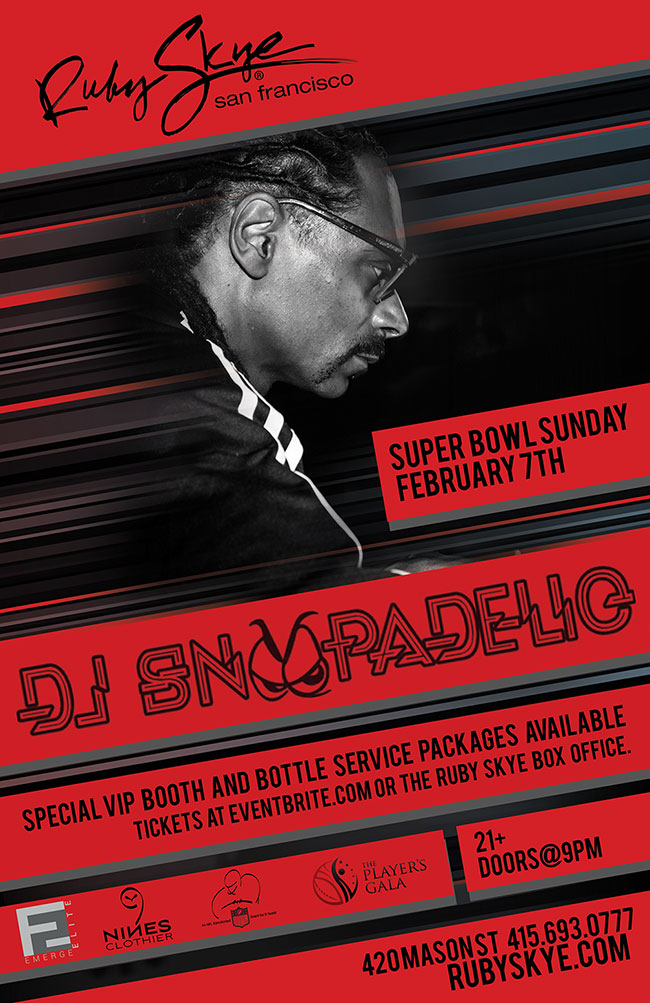 Emerge Elite has announced the annual Player's Gala, which will take place in San Francisco on Sunday, February 7. The annual event, being held the evening of the Super Bowl, will host a mix of celebrities and talent including DJ Snoopadelic, who is also set to perform.
"DJ Snoopadelic gives me a chance to play all the different kinds of music I like for the people. They are all different extensions of my personality," said Snoop Dogg. "I love DJing and I thought it would be something cool to do for everyone to come out to. I always keep my sword sharp."
The evening will commence with an intimate Super Bowl viewing party for players and guests.  Immediately following the Super Bowl, celebrity guests and influencers are scheduled to arrive for the annual event. Past attendees include Sean 'P. Diddy' Combs, Jay Z, Ludacris, John Legend, Adam Levine, Jamie Foxx, Michael Strahan, Chris Brown, LeBron James and more.
This year's sponsors include G-Form, Hangar 1 Vodka and Emerge Elite.
About The Player's Gala
15 years ago, a group of NFL players saw the need to host an exclusive event during Super Bowl that embraced everyone. The Player's Gala was created to bring together professional athletes, artists, entertainers, tastemakers and influencers for a weekend-long celebration.
The Player's Gala takes place each year at the host city of the Super Bowl and was an NFL sanctioned event for eight years.  After eight years, organizers opted to lift the sanction.  However, the gala still remains one of the more favored events during Super Bowl weekend and maintains an amicable relationship with the NFL.  The event tradition includes a private viewing of the Super Bowl game followed by the Gala.
About DJ Snoopadelic
Multi-platinum artist, actor and entertainment icon Snoop Dogg is at the forefront of popular culture with award-winning albums and songs, multiple films, lifestyle products, philanthropic efforts, and digital ventures, including his YouTube original series "GGN News". Snoop Dogg has sold over 30 million albums worldwide and received multiple GRAMMY® nominations.
Under the moniker DJ Snoopadelic, Snoop has been tearing up festivals and clubs around the world for nearly four years, giving fans a special experience that only he can curate. This will be his second time hosting the Player's Gala.
About Emerge Elite (E2)
Emerge Elite leverages the marketing power of celebrity influencers with iconic events to build product and brand awareness that manifests in consumer adoption, increasing the stature of the brand and driving sales through awareness. For over 15 years, E2's founders have operated two of the most coveted events in sports and entertainment: The Player's Gala – Super Bowl and the Player's Gala – NBA All Star.
About G-Form
G-Form LLC is a pioneer in the advancement of impact protection technology for athletes. The company's proprietary cutting edge materials and composites combine high-level impact protection with comfort, style, and complete freedom of motion. G-Form has become the chosen protective equipment of athletes across multiple categories including team sports, MTB, BMX, skateboard, snowboard, soccer, and professional stunt. G-Form also makes protective cases for consumer electronics and has several exclusive OEM partnerships. For more information about G-Form, visit www.g-form.com.