17 Jan

THE ROAD TO ARIZONA SUPER BOWL PARTIES AND PREGAME TAILGATES: LEIGH STEINBERG "THE LOVE OF THE GAME" 2023 36th ANNUAL SUPER BOWL PARTY





LEIGH STEINBERG "THE LOVE OF THE GAME" 2023 36th ANNUAL SUPER BOWL PARTY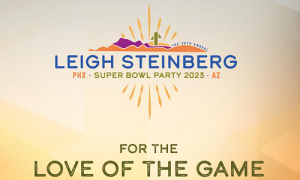 WHEN: SATURDAY, FEBRUARY 11 2023
WHERE: The Salt River Fields at Talking Stick Phoenix AZ.
TIME: 12:00 PM — 5:00 PM
TICKETS: $1,000 plus $10
For more details and tickets click HERE
For Sponsorship Inquiries, please reach out to leeann@steinbergsports.com
Leigh Steinberg, iconic sports agent and founder of Steinberg Sports and Entertainment (SSE), will host his 36th Super Bowl Party. This exclusive party as it's usually an invite only event is attended by NFL owners, general managers, coaches, personnel departments, celebrities, entertainers, politicians, corporate CEOs, media personalities, athletes, entrepreneurs in technology, green initiatives, health, sports and entertainment. PAST ATTENDEES: Patrick Mahomes • Steve Young • Troy Aikman Jay Leno • Kevin Costner • LL Cool J • Dev Adrian • Lauren Sesselmann • Warren Moon • Christian Okoye • Jerry Jones • Walter Briggs George Clooney • Tom Cruise • Cuba Gooding Jr. • Serena Williams • Reverend Run • Jake Plummer • Outkast • NSYNC • Gabrielle Union • Michael Mina • Deion Sanders Michael Chiklis • Jeremy Pivin • Wynonna Judd • Warren G • Ben Roethlisberger Cameron Crowe • Karina Smirnoff • Lee Elder Gov. Doug Ducey • James Valenti • Senator Ted Kennedy • Josh Gad • Ludacris • Chuck Liddell • Jeffrey Lurie • Ricky Watters • Rashad Jennings • T.I. • Bruce Arians • Steve Smith Sr. • Camille Grammar • Jim Furky • Ron Jaworski • Josh Lucas • Nene Leakes • Boys II Men Oliver Stone • Woody Johnson • Earl Campbell • Adam Shefter • Lennox Lewis Kardell Stewart • Christina Milian • Suzanne Ircha • Nick Lowery • Daymond John +Titans in the industries of sports, business, tech, entertainment, politics, and health.
This year's event will take place at The Salt River Fields at Talking Stick, Phoenix, AZ. This year's theme of the event will celebrate not only "the big game" but the love of EVERY game and the impact their players, coaches and partners can make in the world.
"The "love of the game" extends beyond football… The camaraderie, passion, discipline, teamwork, and dedication of loving a sport can extend far beyond the field or the court. If harnessed, the love of the game can translate to a love of humanity. Athletes and their teams have the power to inspire, teach, raise awareness, and bring goodness into their communities."
We at SupersundayHQ can't wait to see how they will be celebrating this special theme at such a memorable venue in their 36th year! The "love of the game" & it's extension should be embraced throughout humanity as well as other parties.
The event will also feature The 10th Annual Brain Summit and the Steinberg Denicola Humanitarian Awards. The Steinberg DeNicola Humanitarian Awards recognizes outstanding individuals in the NFL community that devote and dedicate their time to address community issues and the welfare of humanity. Also at the party, there will be many amazing sponsors and partners, gourmet stadium cuisine, cocktails featuring Bennie Red Vodka and Cabal Tequila.
Each year the Leigh Steinberg Super Bowl Party shines a light on a standout non-profit organization to bring awareness to their cause, highlight the work they do and raise funds to help. Past organizations have included The Lantern Network, Make-A-Wish Foundation, and Special Olympics. This year's featured non-profit organization that will be spotlighted is the Champions for the Homeless at St. Vincent De Paul's Homeless Shelter, a local Phoenix organization founded by former NFL Hall of Fame player Nick Lowery, will be in the spotlight. Champions of the Homeless puts a human face on those that are homeless.
Leigh Steinberg's work in the community matches that of his career in representation, with being credited for helping raise over $800 million for charity. He has received four Presidential Commendations for community service, in addition to the key to five cities. Mr. Steinberg consulted on films: Jerry Maguire, starring Tom Cruise; Oliver Stone's Any Given Sunday; and For the Love of the Game, starring Kevin Costner. Leigh is the author of two best-selling books, "The Agent" and "Winning With Integrity: How to Get What You Want Without Selling Your Soul."

ABOUT:
Champions for the Homeless at St. Vincent De Paul's Homeless Shelter
For 16 years they have served close to 100,000 of the homeless population in Phoenix, 35% of which are veterans. The group hosts events with professional athletes on Thanksgiving, Christmas, Easter, and more, bringing in donations of thousands of goods such as socks, shirts, and underwear. They also helped to make Phoenix the first city in the country to provide free COVID testing for the homeless in April 2020. At each event – they seize the opportunity to tell the human stories of the community.