15 Jan

LEGENDS OF THE GAME SUPER BOWL PARTY WITH BRETT FAVRE, TIKI BARBER & CHARLES WOODSON
LEGENDS OF THE GAME:
An evening with Brett Favre, Tiki Barber & Charles Woodson
A Red Carpet Super Bowl 50 Event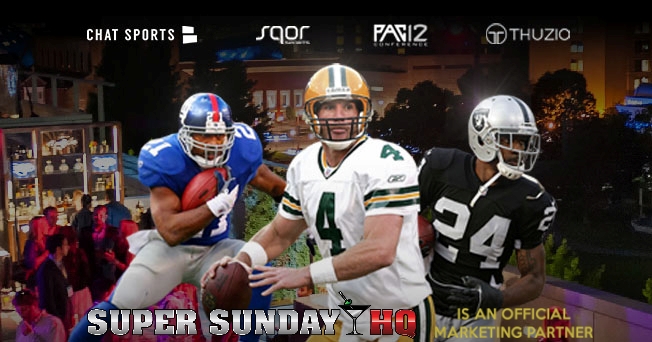 On Friday February 5, 2016, from 6pm-9pm, don't miss the only night truly worthy of the Silicon Valley Super Bowl, featuring: Red carpet entry, artisan cocktails from specialty mixologists and dozens of NFL legends along with virtual reality experiences, live Q&A hosted by TV personalities, and behind-the-scenes tours of the Pac-12 Studios, which is the venue for this party. Don't miss the live DJ, dancing, delicious bites, and more. Legends of the Game is a private, invitation-only event presented by Thuzio &  Chat Sports & Sqor Sports . Super Sunday HQ is an official marketing sponsor for this event. For media credentials, press passes & invitation inquiries, contact suzi@chatsports.com
Chat Sports delivers news from thousands of sources, personalized for you into one smart newsfeed. It's also the ONLY app that lets you follow live play-by-play for multiple games on one screen. Choose teams and follow friends to get every relevant article from ESPN, Bleacher Report, Chat Sports, local papers, and blogs. Swipe to Scores Hub to view live results and play-by-play from MLB, NFL, College Football and Men's Basketball, NBA, and NHL. Then explore trending headlines from every sport and discover new articles through friends' picks. Download now for iPhone and Android: chatsports.com/app
To keep track of all the Super Bowl 50 Parties and events, make sure you visit Super Sunday HQ and get the mobile app, where you can scroll through all the star-studded parties, add Super Bowl events to your calendar, see exclusive party photos, and connect with other Super Bowl 50 partygoers and VIP's. Follow the links to get the #1 Insider's Guide to the Super Bowl:
AppStore: Super Sunday HQ App
Google: Super Sunday HQ App
Also check out our Kickstarter campaign, which is now LIVE.