11 Jan

Madden Bowl XXI Super Bowl Party

EA Sports will partner with XBOX, Twitch.tv, GMC, Pepsi, Verizon, and for the 1st time ever, the NFL, for Madden Bowl XXI on Thursday Night, 7pm-2am, at both Livewire and Bottled Blonde in Scottsdale. Super Sunday HQ caught up with Randy Chase, @randychase75, Sr. Director of North America Marketing  EA SPORTS at Electronic Arts, today to get the exclusive announcement and news on the headliners, the format, and the party.

The Music

"Lil' Jon is going to open the night, he is going to DJ as well as perform a bit. We'll also have Florida Georgia Line and Nelly to headline. All those guys will be performing inside of Livewire. Bottled Blonde is going to be our VIP area for our athletes and celebrities to hang out at, with a lot of TVs where they can see whats going on at the party," said Chase, who discussed the motivation behind the shifting away from exclusively hip-hop performers to a variety of major acts. "We want to do a unique show that has something for everybody. With EA's focus on being  Gamers First and putting our players at the focal point of everything we do, we're taking that approach with everything we do, even our events. Realizing that a lot of different people play Madden and are fans of Madden, we want to make sure we have something for everybody both in the game and when we activate outside the game."

Breaking Outside the 'Four Walls' of the Party

"We start talking about the next year on the Friday after the Thursday event is done," Chase told Super Sunday HQ.  "That's kind of when initial discussions happen, and we start taking the key learnings from the last year. Things we wanted to do or were not  able to do, places we wanted to take the event. We definitely wanted to break the event outside the four walls. Madden Bowl in the very very early days, was kind of a party at the Super Bowl. We want it to be so much more than that. We want it to be a celebration of Madden, but we also want our gamers and fans of our game to be able to have access and to have a touchpoint to this. We worked with GMC this year and we actually did a Gamer Bowl. We're actually going to  have winners from GMC and Xbox, that are actually going to come in, and they're going to play a gamer tournament earlier in the night to crown a gamer winner. Also, we're actually partnering with Twitch.tv this year and we're going to stream portions of Madden Bowl. So the Pepsi halftime show as well as the tournament itself is going to be streamed on Twitch.tv which fans will be able to access via the Twitch homepage, the EA channel on Twitch, Xbox live, and on their smartphones. We'll have some access there, but also breaking out through Twitch.tv."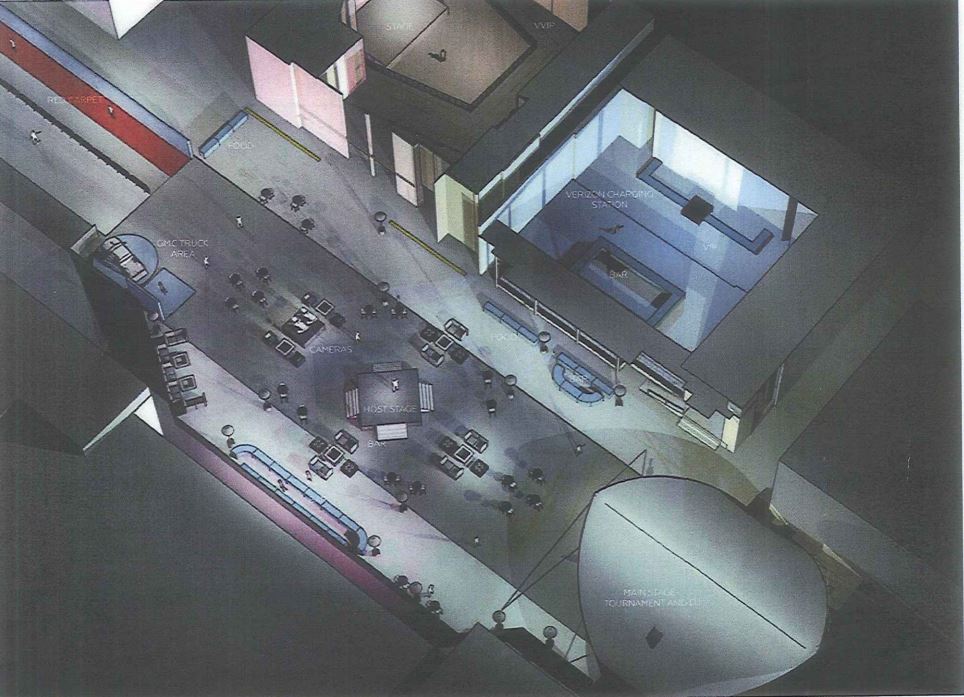 More about the Party
Madden Bowl will be a block party, but will have both indoor and outdoor features for its guests. "If people get too cold, they can go into one of the clubs and and we'll also have a good amount of heaters throughout the street. We'll have some couches with fire pits. We'll be ready no matter what the elements bring," Chase said.
"We're going to have TVs everywhere so wherever you are you'll be able to see what's going on at the multiple stages. We're going to have a stage outside on the street where the tournament will take place. The performers will go on the stage inside Livewire, and we're working with Pepsi to do a Pepsi Halftime Show, which will be a third stage, so there will be a surprise guest for that."
"It's going to be an actual NFL event. In the past, Madden Bowl has not had the NFL shield as part of the event logo, so we're actually working with the NFL to produce the event this year. We definitely want to have it, as in year's past, to be a very talked about event. We come out at Thursday night, setting the bar really high. Some publications last year said Madden Bowl was more enjoyable than the game itself, with all the elements, and the fact the score was so lopsided. Definitely want to have a breakthrough event," Chase told us.
The Madden Bowl Tournament will be condensed to a total of four athletes who will play in a semi-final round, with the winners playing in the finals on the main stage, with something new: "We're utilizing Madden Ultimate Team. In the past, the guys could pick whatever team they wanted. This year, these guys are going to draft an Ultimate Team and go head-to-head with the other guys in the tournament. "
#UltimateSB
"We have Madden Bowl and we're also activating the entire Super Bowl week with access to our team so if fans follow with hashtag #ultimatesb, we're going to be covering all angles of the Super Bowl week to get behind-the-scenes pictures of the creation of Madden Bowl, during Madden Bowl night, and then all the other activations we do during Super Bowl," Chase shared.