21 Jan

Rick Ross Super Bowl 50 After Party 'Til 4AM !
Rick Ross Super Bowl 50 After Party at Roccapulco Until 4AM in San Francisco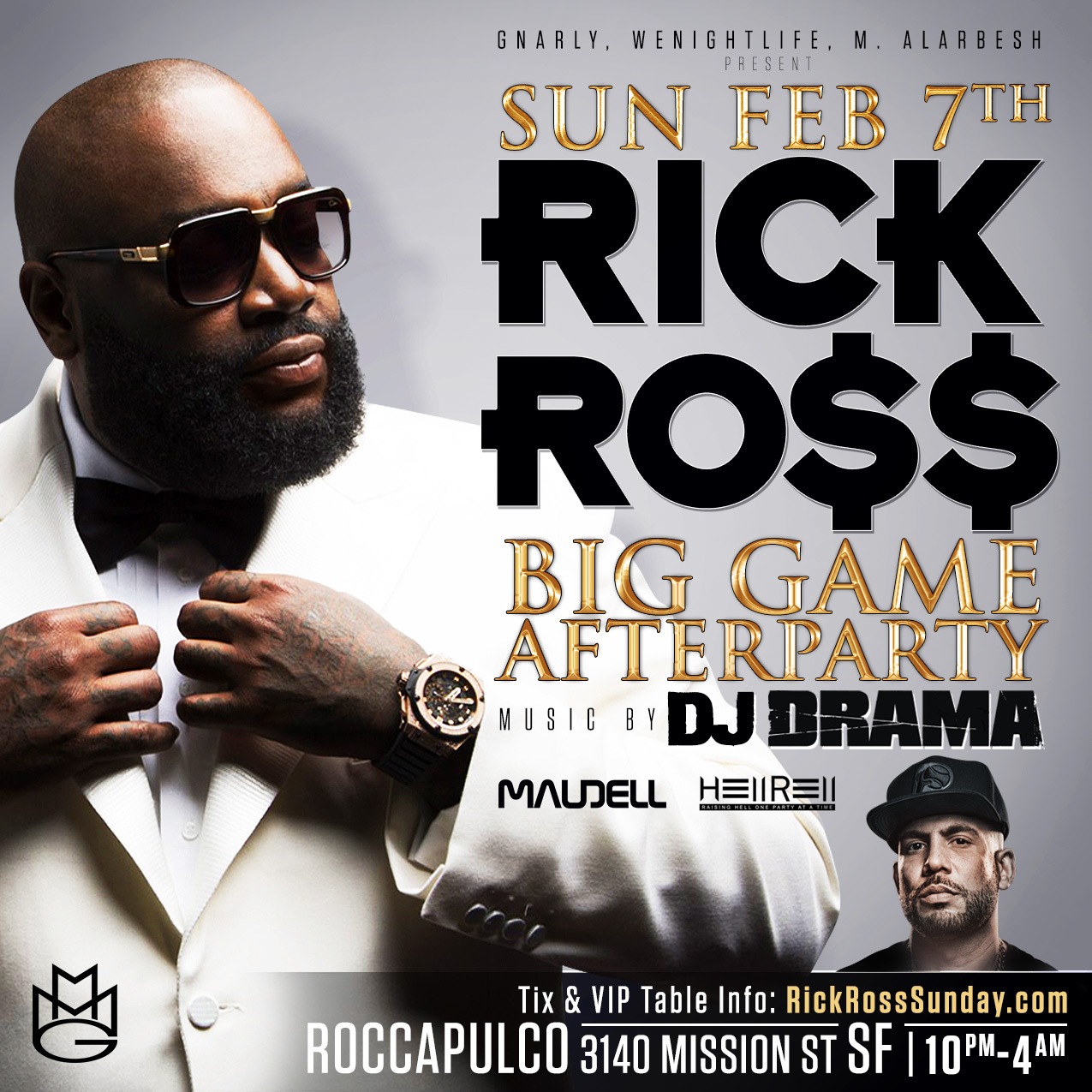 GNARLY, WENIGHTLIFE, M. ALARBESH are putting together an insane after party with Hip Hop Legend Rick Ross and DJ Drama at Roccapulco in San Francisco after the Super Bowl on Sunday Night. Several ticket options are sold out, but a limited number are still available. BUY TICKETS HERE.
THE RICK ROSS SUNDAY PROMO VIDEO! CLICK TO WATCH!
According to the event planners, most clubs close at 2am in San Francisco, but you can party at this bash until 4AM!!! Join the excitement and experience the grand finale of the Super Bowl Weekend on Sunday with Hip Hop Legend BIG BOSS RICK RO$$ Sunday Night Party!
Here's a look at the venue.
Ricky Rozay, a megastar  & founder of Maybach Music Group recently dropped another hot album BLACK MARKET with multiple radio and club hits…so get your tix and book your tables for the hottest Super Bowl party of the weekend!!!  There are few names that transcend Hip Hop and Rick Ross & DJ Drama together are going to be a party to remember!
ALSO: CHECK OUT THE SUPER BOWL KICK OFF PARTY with FRENCH MONTANA 

DETAILS:
RICK ROSS with DJ Drama
Super Bowl 50 Afterparty
Sunday February 7th, 2016
Roccapulco, 3140 Mission Street, San Francisco
EXTENDED HOURS 10PM-4AM