01 Feb

T.I. & FRIENDS SUPERBOWL FINALE PARTY
T.I. & FRIENDS SUPERBOWL FINALE PARTY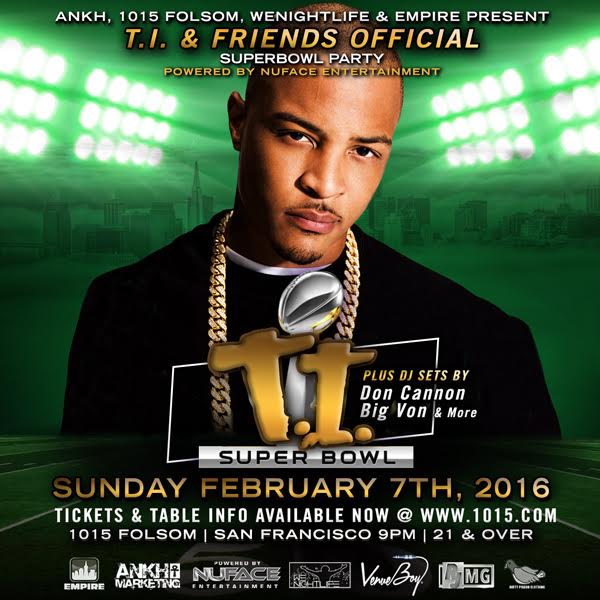 After the Big Game is over, keep the party going strong at 1015 Folsom on Sunday night! Join T.I. and friends for their Super Bowl Finale Party, with special live celebrity guest performances. Hosted by Rayven Justice and Ghazi.
Never one to march behind anyone else, rapper/songwriter/producer T.I. has crafted a standard-setting career that includes three Grammy Awards and status as a hip-hop icon. But that doesn't mean the superstar is content to rest on those hard-won laurels.
Finding ways to keep fans anticipating what's next has always been T.I.'s stock in trade. His distinct flow and lyrical skills drew widespread national attention with 2003's Trap Muzik. His eight-album catalog includes three consecutive No. 1 debuts on the Billboard 200 (2006's King, 2007's T.I. vs. T.I.P. and 2008's Paper Trail). His most recent album, inspired by soul legend Marvin Gaye, was 2012's "Trouble Man: Heavy Is the Head. The rapper also counts a string of hit singles, among them "Bring 'Em Out," "What You Know," "Whatever You Like," "Live Your Life" featuring Rihanna and "Dead and Gone" featuring Justin Timberlake. His multi-platinum tally includes a total of four Billboard Hot 100 No. 1's plus sales of more than 30 million singles and 14 million albums. Along the way, he has collaborated with other such marquee artists as Jay Z, Robin Thicke, Lil Wayne, Lady Gaga, Drake and Kanye West.