09 Jan

LUMINARIES OF THE GAME SUPER BOWL PARTY HOUSTON 2017
LUMINARIES OF THE GAME SUPER BOWL PARTY HOUSTON 2017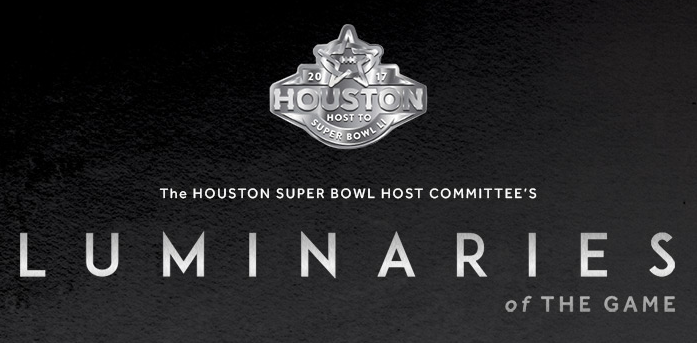 ABOUT
Super Sunday HQ has learned that Luminaries of the Game is a once-in-a-lifetime, insider's event that's an opportunity for Houstonians to enjoy the evening dining with icons of football including members of the Pro Football Hall of Fame, famed sports celebrities and NFL leadership in celebration of the highly-anticipated Super Bowl LI to be played on February 5, 2017.
The evening will highlight great moments in football history and showcase Houston as the city of the future. This event will honor Houston luminaries Janice and Robert McNair.
Proceeds from the Luminaries of the Game Super Bowl Party will benefit Touchdown Houston, the Host Committee's Charitable Giving Fund.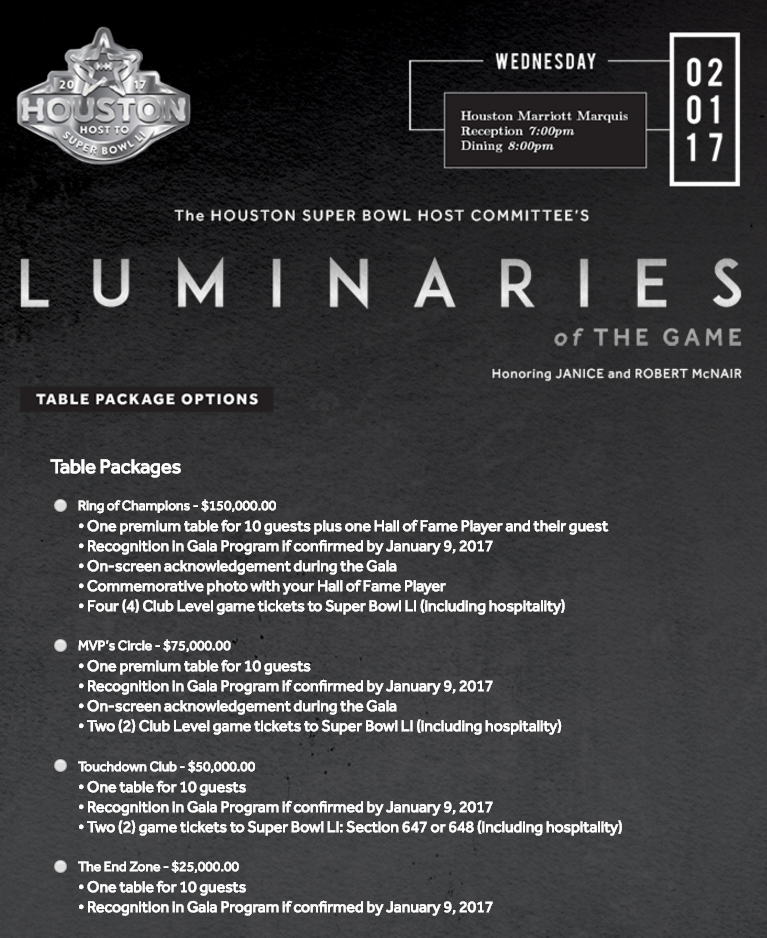 Confirmed attendees according to the event:
 Lem Barney Lions
Bobby Bell Chiefs
Elvin Bethea Oilers
Fred Biletnikoff Raiders
Mel Blount Steelers
Willie Brown Broncos, Raiders
Harry Carson Giants
Dave Casper Raiders, Oilers, Vikings
Curley Culp Chiefs, Oilers, Lions
Dermonti Dawson Steelers
Fred Dean [team]
Joe Delamielleure Bills, Browns
Eric Dickerson Rams, Colts, Raiders, Falcons
Chris Doleman Vikings, Falcons, 49ers
Tony Dorsett Cowboys, Broncos
Carl Eller Vikings, Seahawks
Kevin Greene Rams, Steelers, 49ers, Panthers
Ken Houston Oilers, Redskins
Rickey Jackson Saints, 49ers
Charlie Joiner Oilers, Bengals, Chargers
Paul Krause Redskins, Vikings
Willie Lanier Chiefs
Floyd Little Broncos
James Lofton Packers, Raiders, Bills, Rams, Eagles
Tom Mack Rams Just confirmed!
Bruce Matthews Oilers, Titans
Warren Moon Oilers, Vikings, Seahawks, Chiefs Just confirmed!
Anthony Muñoz Bengals
Bill Polian (as G.M.) Bills, Panthers, Colts
John Randle Vikings, Seahawks
Andre Reed Bills, Redskins
Mel Renfro Cowboys
Willie Roaf Saints, Chiefs
Will Shields Chiefs
Mike Singletary Bears
Jan Stenerud Chiefs, Packagers, Vikings
Jim Taylor Packers, Saints
Thurman Thomas Bills, Dolphins
Dave Wilcox 49ers
Kellen Winslow Chargers
Ron Yary Vikings, Rams

Summary
Event
​
Luminaries of the Game Houston Super Bowl Party
Location
​
Marriott Marquis Houston

,

1777 Walker St.

,

Houston

,

Texas

-

77010
Starting on
Ending on
Offer Price