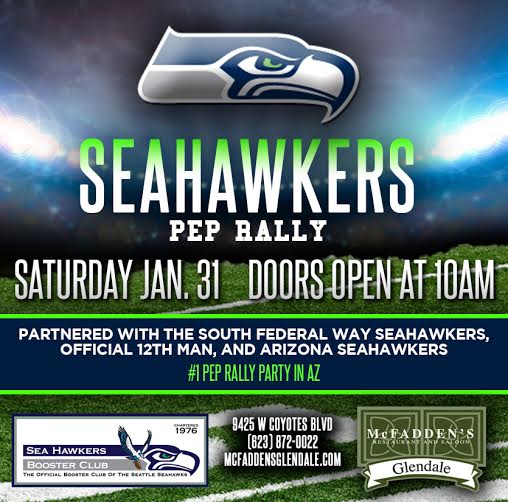 27 Jan

SEAHAWKERS Pep Rally

McFadden's in Glendale has partnered with the South Federal Way Seahawkers, Official 12th man, and Arizona Seahawkers to host a Pep Rally at the restaurant and saloon starting at 10am on Saturday.

But that's not all. Check out the whole lineup of entertainment and fun just steps away from the stadium:

3 locations, 7 patios, over 100 HDTVs, and 35,000 square feet of out of control partying!!
It's the who's who of the bar world here in Glendale, AZ with these party stars:  McFadden's Saloon,Calico Jack's Cantina, and the soon-to-be legendary McFadden's Beach House,  a West Coast take on an East Coast icon, opening its doors just in time for the madness, in the heart of Westgate Entertainment District.   Want to party at the closest venues to The Super Bowl? Of course you do. All three venues are located in the center plaza surrounding the Gila River Arena, just steps away from the roaring crowd in the University of Phoenix Stadium, and your closest options for drinking, dining and dancing the week away.  Each venue proudly boasts a TV at every yard line, state of the art audio, and food menus that offer a wide variety of crowd-pleasers; giving sports fans a front row seat to all of their favorite sporting events!
The jam-packed lineup begins Friday, January 23rd with the Grand Opening of the 17,000 square foot Beach House, hosted by the Arizona Cardinals' Michael Floyd and the Dallas Cowboys Pro-bowlers. The Beach House is also the Un-Official Home to New England Patriot fans.  Meanwhile, the original McFadden's Saloon hosts the official Arizona and South Federal Way Seahawkerson Saturday, January 31st at 10am, and won't even be rivaled by Marshawn Lynch's enthusiasm.  The non-stop bender rocks on through Super Sunday, when the doors open at 6am and might never close.
Up next, two words: CONCERT.  SERIES.  The Westgate Super Music Series is a 5-day FREE concert series event and McFadden's, The Beach House, and Calico Jack's all have a front row view equipped with outdoor patio bars and seating. The Beach House also has a wrap around second floor patio with the best view of the plaza.  The series includes the popular Los Lobos, The Chainsmokers, and the Eli Young Band, all playing right outside of McFadden's. If those names don't get you excited, take the 3 minute walk over to The DirectTV Super Fan Festival to catch Zac Brown Band, Calvin Harris, Jason Derulo, Snoop Dogg, and the recent breakout band Imagine Dragons. These concert series are hands-down, can't-miss events. Glendale is going to be partying all week long with celebrities, NFL athletes and everyone who is anyone seems to be on the guest lists. Are you?
For event inquiries, table reservations, bottle service, or private viewing party options, call 623.692.2155 or inquire on the respective websites:  McFadden's Saloon, Calico Jack's, and McFadden's Beach House
Email Contacts
McFadden's Beach House – Amani Mousa, amani@mcfaddenssaloon.com
McFadden's Saloon – Denelle Lopez, denellel@mcfaddensglendale.com
Calico Jack's Cantina – Teigan Kurtzman, teigank@calicojacksglendale.com