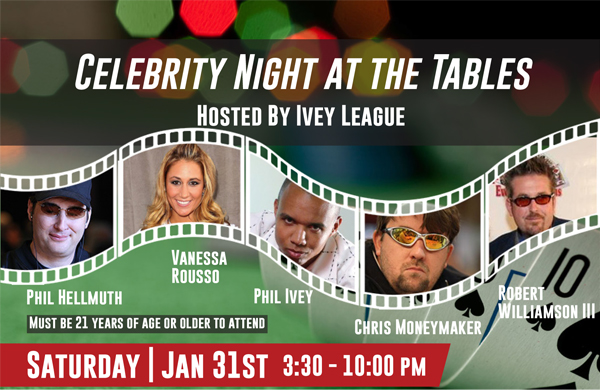 01 Jan

CELEBRITY POKER TOURNAMENT HOSTED BY IVEY LEAGUE
CELEBRITY POKER TOURNAMENT HOSTED BY IVEY LEAGUE
From the folks at ALL IN:
On Saturday, Ivey League will host a charitable poker tournament during the afternoon and early evening. Major stars from the poker world including multiple WSOP winners have committed to attend and play. Given the high crossover among poker and fantasy sports players, this charity tournament is a great opportunity to engage in all that is new in the gaming world. A limited number of ticket packages are STILL AVAILABLE HERE or contact Baxter@allinmagazine.com
AMAZING MONEY CAN'T BUY POKER TOURNAMENT PRIZES INCLUDE…
Phil Ivey Experience for 4 • Private poker lessons at his Las Vegas home, followed by an evening with him at the hottest nightclub in Vegas • Value:  Priceless ($100,000)  • Donated by:  Phil Ivey
7-day luxurious vacation for 10 • 5 Star Hacienda Hotel Penthouse • Cabo San Lucas, Mexico
• Value: $24,500  •  Donated by G2G Collection
A private trip aboard Enrique Iglesias Gulfstream Jet for 12 • Penthouse at the Cosmopolitan
Las Vegas with VIP access. • Value:  $37,000  • Donated by:  Michael Durden and Kasey Thompson
An Unforgettable World Poker Tour Experience for 2  • Attend the WPT Championship with hosts Mike Sexton and Vince Van Patten and a private dinner to follow  • Value:  Priceless • Donated by:  The WPT
All In will be your host at one of the most beautiful and spacious outdoor estates in Paradise Valley, AZ. This posh community venue will be your exclusive go to place during this year's Super Bowl weekend! Come to enjoy gourmet food, craft cocktails and beverages, top flight entertainment, an exclusive Celebrity Poker Tournament and Super Bowl Sunday's Fantasy Sports immersion with game instruction, demonstrations and superstar competition, topped with a viewing party of Super Bowl XLIX! The ALL IN Oasis is confidential private locale for guest and VIPs who want to step away from the crowded downtown events.  Here guests can relax and enjoy ALL IN's event-filled weekend in the natural surroundings and beauty of this unique outdoor Arizona venue.
THE GAMING INDUSTRY'S PREMIER MEDIA HOUSE
While poker's popularity continues to power along more than a decade after its boom began, related industries such as fantasy sports and competitive video gaming are simultaneously skyrocketing. The passion of the participants in all of these gaming outlets is only growing. And ALL IN is there to stoke those fires.
ALL IN Media House's mission is to provide the global poker, fantasy sports, and eSports communities with high quality, innovative, and compelling multimedia content as well as direct access to the luxury lifestyle and online gaming action. The ongoing goal is to be the industry leader in the gaming media space, with a high-end print, digital, and mobile presentation unparalleled in both its quality and its prominence. And the scope of that goal is constantly expanding, as new opportunities develop to make the ALL IN brand synonymous with poker, fantasy, and eSports as an entity that not only covers the games, but is an integral part of the games.
Here's a snapshot of the products and projects that fall under the ever-expanding ALL IN Media House umbrella:
ALL IN Magazine: The original print edition, a leading publication among poker enthusiasts since 2004, remains a monthly must-read more than a decade later. Presented in a slick, colorful package freshly redesigned for 2015, the magazine features in-depth profiles, event coverage, interviews, hand analysis, strategy articles written by the pros, columns, news, and humor from the worlds of poker, fantasy sports, and eSports.
Allinmag.com: With a brand-new, cutting-edge website launching in December 2014, not only does a decade of magazine content come alive digitally, but it's accompanied by up-to-the-minute news, analysis, video, and access to the biggest stars in the poker, fantasy sports, and eSports worlds.
Social Media: ALL IN keeps growing on Facebook, Twitter, Instagram, and Pinterest, bringing fans inside the gaming lifestyle at every moment.
Social Casino: Poker, blackjack, and slots are just a click away through a social casino that is a legal way to play your favorite games. Tournaments for great prizes run daily.
In-House Video Production: Our team provides complete video services, from shorts on our YouTube channel to full-length documentary and reality programming. It's the highest quality, most professionally crafted video experience in the gaming space.
ALL IN 365: Leveraging access and expertise into a high-quality, quick-hit viewing experience, the ALL IN team delivers daily video content unlike anything else in the gaming industry.
College Gaming Tour: Launched in April 2014, this first-of-its-kind competition brings players from colleges across the country together, competing online for prizes and money while representing their respective schools. It started as the College Poker Tour, but is expanding to encompass fantasy sports and eSports as well.
ALL IN Player Management: Several of the biggest names in poker—from world champions to crossover reality-TV stars—are signed with our management company, which offers high-end partnerships and sponsorships that bridge the gap between gaming and the media mainstream.
Events: Gaming is an event-driven industry, ready-made for crossover into the worlds of sports and entertainment. ALL IN is on the scene—and operating behind the scenes—at such events as movie premieres, the Calais Campbell Celebrity Poker Invitational, the annual Esquire/ALL IN Super Bowl Party, and the Phoenix Open golf tournament.
ALL IN Cause: Charity is a cornerstone of the modern gaming world, and our team believes strongly in giving back to those in need through our own internally housed endeavor, ALL IN Cause.
This universe is rapidly evolving: Online poker regulation is taking hold from state to state and bringing a safe and secure version of the game back into our living rooms; fantasy sports are being transformed by the surging popularity of online daily fantasy; and eSports events are drawing more viewers than the NBA or college football. ALL IN is evolving right alongside these games and this billion-dollar industry, anticipating the trends and expanding our reach. ALL IN has redefined—and continues to redefine—what a gaming media company can be.
---