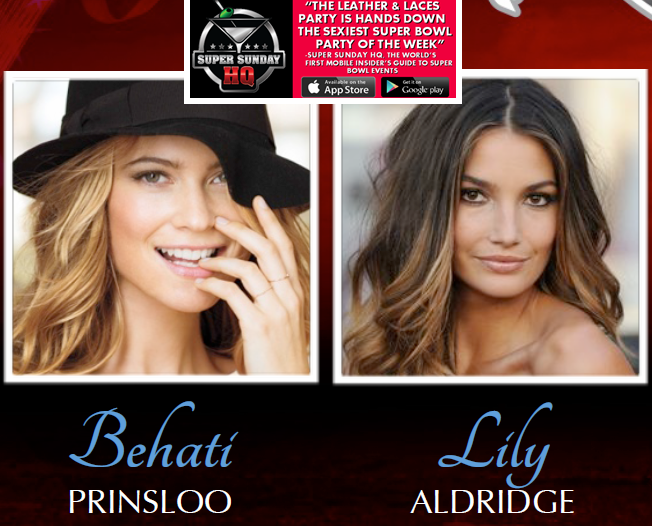 07 Jan

Victoria's Secret Models Behati Prinsloo & Lily Aldridge will Co-Host Leather & Laces on Friday Night in Phoenix

The Super Sunday HQ Mobile App Community Heard it First! Our news team reports that the Leather & Laces Super Bowl party is bringing sexy back to the Big Game Weekend, as Victoria's Secret Models Behati Prinsloo and Lily Aldridge are set to co-host one of the most glamorous events of the week-long festivities before Super Bowl 49. Concerts will come and go, but where else will you get an opportunity to party in the same venue as two of the most beautiful women in the world? Check out our video links below, and you'll also notice that there are several lingerie-clad women all over the party and dancefloor. The Leather & Laces bash is exactly the kind of unique event that you can only find during Super Bowl week, which also features an open bar, entertainers, and other cool amenities. Other big celebs are also known to frequent this event. Just last year, Steven Tyler, Justin Bieber, Paris Hilton, Kyle Busch & many more stars attended the star-studded party.

Tickets for Night #1 are Here, and Tickets for Night #2 are Here.

About the hosts:

Behati Prinsloo was born in Grootfontein, Namibia. While on holiday in Cape Town, South Africa, at 16, Prinsloo was discovered by Storm Model Management (who discovered Kate Moss).
Prinsloo has appeared in the Victoria's Secret Fashion Show from 2007–14. In 2009, Prinsloo was made a Victoria's Secret Angel and in 2014 she opened the show for the first time. She is also the face of the VS brand Pink.

Prinsloo has walked in fashion shows for Chanel, Prada, Louis Vuitton, Zac Posen, MaxMara, Lacoste, and Miu Miu. She has been on the covers of Vogue, GQ, L'Officiel Netherlands, V, Italy's Muse, Russian Vogue, Mexican Vogue, Spanish Vogue, Glamour and Swedish & Italian Elle. Her ad campaigns include Chanel, H&M,
Hugo Boss, Kurt Geiger, Marc by Marc Jacobs, Juicy Couture, Lacoste, Nina Ricci, Tommy Hilfiger, Gap and DKNY Jeans to name a few. She is the face of Pepe Jeans campaign for Spring/Summer 2014. Prinsloo and fellow Victoria's Secret models Jacquelyn Jablonski and Jasmine Tookes guest starred on CBS' Hawaii Five-0 playing themselves.
Prinsloo began dating Maroon 5 frontman Adam Levine in 2012  and the couple married in Mexico on 19 July 2014.

Lily Aldridge is a Victoria's Secret "Angel" and a Sports Illustrated Swimsuit Issue model, appearing alongside Chrissy Tiegen and Nina Agdal for the cover of the issue's 50th anniversary.
Aldridge started modelling at the age of 16, for Abercrombie & Fitch. Her advertising campaigns include Arden B., Bobbi Brown, Gap, Tommy Hilfiger, Coach, JCrew, Charles David and Levi's. Aldridge has appeared on the covers of Glamour, Vogue, Elle and others. She has been featured in editorials for Glamour, Cosmopolitan, Teen Vogue, Harpers Bazaar, Lucky and Marie Claire.

In 2009, Aldridge walked in her first Victoria's Secret Fashion Show. In 2010 she became a Victoria's Secret Angel and walked her second Victoria's Secret Fashion Show, in which she was
given her wings for the first time. She has also walked the 2011, 2012, 2013 and 2014 fashion shows.

The Bentley Project is truly a distinctive Gallery that creates the perfect event venue setting. Critically acclaimed, the Gallery is located in downtown Phoenix, just a few blocks south of Chase Field and the new Phoenix Convention Center.
It is a unique venue unlike any other with distinct architectural details such as the original brickwork and high soaring ceilings with exposed wood beams. The newly transformed warehouse building also features with floating white gallery walls and spectacular high gloss concrete floors. The Gallery has over 25,000 square feet of what can be considered a blank
canvas on which to "paint" the perfect event and realize its' creative vision.
According to press materials received from the event producer, VIP Tickets include all area access, ultra premium open bar, sushi,
champagne and specialty desserts.
According to press materials received from the event producer, Lounge Tickets include ultra premium open bar and specialty desserts.
According to press materials received from the event producer, a limited amount of Celebrity Host Meet and Greet VIP Tickets are available for $2500 on top of your VIP ticket price and/or table cost. For info on tables and the Meet and Greet tickets contact us, so we can put you in touch with the event's sales team to answer any questions you may have.
Cobra Starship will perform on both nights as well as Jim Karol, mentalist and memory extraordinaire. He has been seen by
millions from his appearances on NBC's "Phenomenon", "The Tonight Show" with Jay Leno, "The Ellen Show", Howard Stern and "The Today Show". Some of Jim's extraordinary abilities include memorizing a shuffled deck of playing cards in less than a minute and knowing the day of the week for every date since the beginning of the calendar. Jim has held three Guinness World Records and has led many people to believe that he can actually read minds!
Cirque Performers will be there on both nights: Founded in 1984, Cirque du Soleil is French for the "Circus of the Sun".
It is circus that mixes circus arts and street theater, special effects and spectacular costumes. Cirque USA is constantly reinventing the idea of the circus and trying to defy the limits of reality. Its performances combine elements of street performances, circus opera, ballet, and rock music.
Tickets for Night #1 are Here, and Tickets for Night #2 are Here.
RELATED VIDEOS
2014 – NYC – Leather and Laces Super Bowl Party
2013 – New Orleans – 10th Annual Leather and Laces Superbowl Party
2012 – Indianapolis – Leather and Laces Super Bowl Party
2011 – Dallas – Leather and Laces Super Bowl Party