02 Feb

Confirmed Guests for the Glazer Palooza & Suits and Sneakers Super Bowl Party
Glazer Palooza Suits and Sneakers Super Bowl Party 2016: Tyler Eifert, Luke Rockhold, Many More Confirmed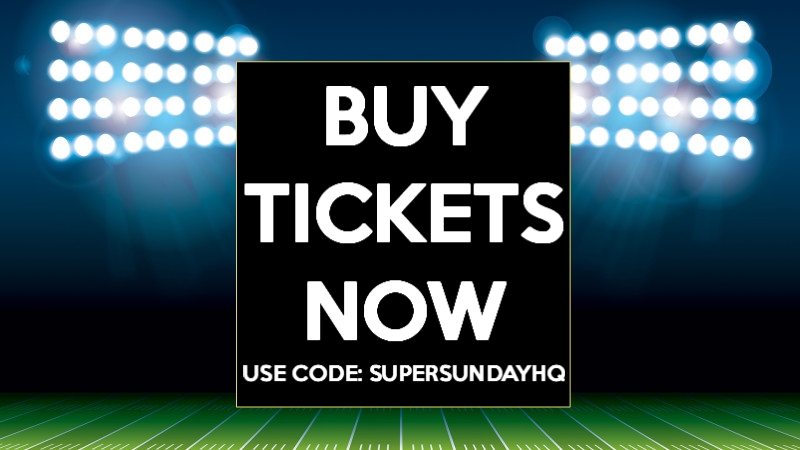 WATCH THE NEW VIDEO!


Two of the Biggest Annual Kick Off Parties Have Joined Forces to Host a Stylish Soiree the Wednesday Before Game Day . The h.wood Group and Vault Experiences will bring a fashion show by Elevee, celebrity DJs and a house full of athletes to kick off SuperBowl  50 celebrations to benefit Merging Vets + Players. We are being told that this event will be rather intimate and offer a high level of interaction and networking with industry elite and players. Super Sunday HQ is not missing this one. Hope to see you there! For those who have been asking, this event features an open bar!
A confirmed list of appearances include DJs Tommy Lee and DJ Aero, with Hall of Famer Marshall Faulk as Emcee.
Walking in the Elevee Fashion Show: Tyler Eifert (Cincinnati Bengals), Andre Roberts (Washington Redskins), James Jones (Green Bay Packers), Navarro Bowman (San Francisco 49ers), London Fletcher (retired NFL player), Melvin Fowler (retired NFL player), and Luke Rockhold (UFC Middleweight Champion).
More scheduled to appear include:
Derek Wolfe (Denver Broncos)
Ronnie Hillman (Broncos)
Von Miller (Broncos)
David Bruton (Broncos)
Cyrus Gray (Broncos)
Luke Richesson (Broncos Coach)
Marshawn Lynch (Seattle Seahawks)
Bruce Miller (49ers)
Kendall Gaskins (49ers)
Geoff Schwartz (NY Giants)
Jen Welter (Cardinals Coach)
Asa Jackson (AZ Cardinals)
Stephan Taylor (Cardinals)
Patrick Chung (Cardinals)
Damontre Moore (Miami Dolphins)
Tony Jerod (49ers)
Mike Wilhoite (49ers)
Andy Levitre (Falcons)
Mike Kyle Emanuel (SD Chargers)
Brock Hekking (SD Chargers)
Pierce Burton (Indianapolis Colts)
Emmitt Smith (Hall of Famer)
Hue Jackson (Cleveland Browns)
Jeremy Newberry (SF 49ers)
Andrew Hawkins (Cleveland Browns)
Justin Ellis (Oakland Raiders)
Delanie Walker (Tennessee Titans)
Calais Campbell (Cardinals)
Dan Williams (Raiders)
Kirk Morrison (Raiders)
Rodney McLeod (Rams)
Brice Butler (Cowboys)
Stephone Anthony (Saints)
Earl Wolf (Jaguars)
Thomas Dimitroff (Atlanta Falcons GM)
Marcus Allen (Hall of Famer)
Formerly competing for the best party to get Super  Bowl  festivities started, for the first time ever Fox sports analyst Jay  Glazer's Glazer Palooza and Super Bowl staple Suits and Sneakers  have combined their events to create one amazing mammoth event. Glazer  Palooza and Suits and Sneakers will kickoff a long weekend of  celebrations surrounding the 50th anniversary of the Super Bowl in  grand style. Taking place at the Port of San Francisco Cruise Ship  Terminal at  Pier 27 , Wednesday, February 3, 2016 from 9p.m.- 2a.m., it is sure to create a buzz to fuel a contagious energy that will permeate  San  Francisco leading up to game day.  This is an invite-only event, but our viewers are able to purchase a limited amount of tickets at an exclusive price. CLICK HERE TO BUY TICKETS! USE CODE: SUPERSUNDAYHQ. (All Caps)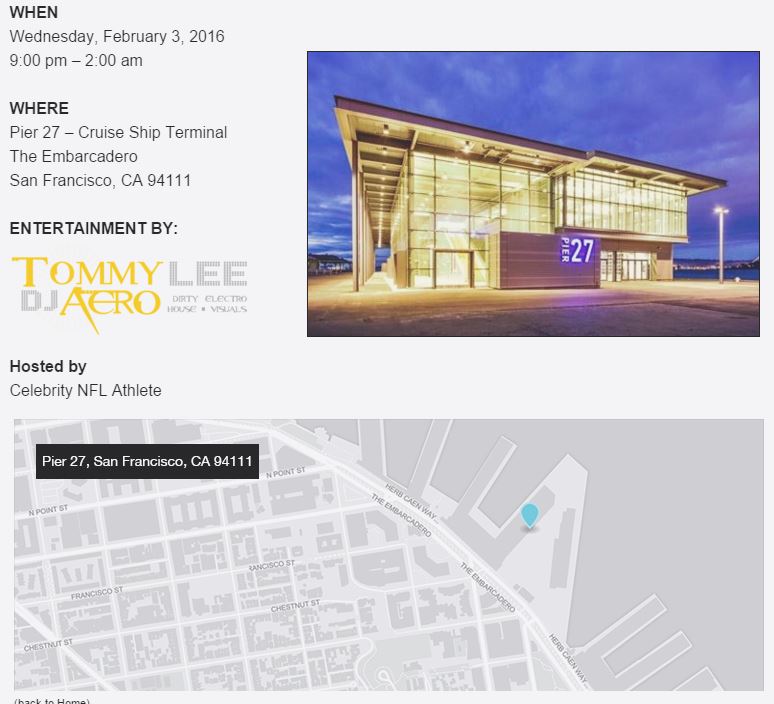 A surprise emcee from the NFL will follow on the heels of last  year's Suits and Sneakers' master of ceremonies Odell Beckham,  Jr. and the event will feature a high-powered runway fashion show by custom suit brand,  Elevee Lifestyle, produced by industry leader, Phoenix Fashion Week.  The  show will include a heavy dose of professional male and female  athletes walking the catwalk in custom lifestyle apparel, designer  suits and branded sneakers. Before and after the fashion show the  nearly 1000 people at the invite-only event will be treated to music  by celebrity DJs Tommy Lee, DJ Aero and SKAM Artist DJ Fred Matters.  Past attendees of these spectacular events have included a  who's who of marquee talent from the worlds of sports and  entertainment including Marshawn Lynch, Tom Brady, Michael Strahan,  Tony Romo, Kim Kardashian,  Kris Jenner, Gabrielle Union, John Elway, Andre Roberts and many more.  This year's draw of host city San Francisco, a thrilling NFL  season and the event partners The h.wood Group, Structure  Capital, True Capital  Management, Vault Experience and The Vega Group joining Jay Glazer and  Elevee promise the megawatt turnout will be even better. And, since  sneakers are the best kind of dancing shoes, the party is sure to  include a packed dance floor until the wee hours of morning. To miss this Super Bowl staple would be a major fumble.  A portion of proceeds from the event will go to Merging Vets +  Players, an organization created  by Glazer in partnership with Boulder Crest Retreat to help veterans  returning from war readjust and lead productive lives at home. Go to  Suits and Sneakers  learn more about the event, including sponsorship inquiries and contacts.
Those who can't attend can virtually join in the action, watching a livestream of the event on Torio TV. Bringing the world's most talked about events to your fingertips, anyone with a mobile device, Roku, desktop or connected television can access the live broadcast onwww.Torio.tv.
To keep track of all the Super Bowl 50 Parties and events, make sure you visit Super Sunday HQ and get the mobile app, where you can scroll through all the star-studded parties, add Super Bowl events to your calendar, see exclusive party photos, and connect with other Super Bowl 50 partygoers and VIP's. Follow the links to get the #1 Insider's Guide to the Super Bowl:
AppStore: Super Sunday HQ App
Google: Super Sunday HQ App