24 Jan

THE ROAD TO MIAMI SUPER BOWL PARTIES AND PREGAME TAILGATES: LEIGH STEINBERG 33RD ANNUAL SUPER BOWL PARTY STEINBERG TALKS PATRICK MAHOMES!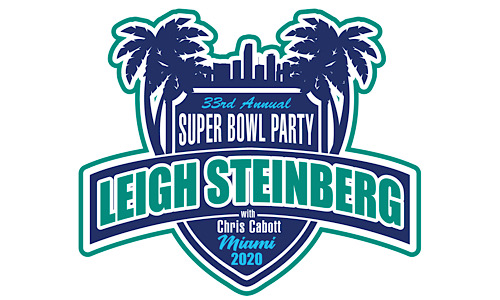 LEIGH STEINBERG 33RD ANNUAL SUPER BOWL PARTY STEINBERG TALKS PATRICK MAHOMES!

WHEN: Saturday February 1, 2020
TIME: 12:00pm-4pm EST
WHERE: Soho Studios 2136 NW 1st Ave, Miami FL 33127
 TICKETS: HERE
Leigh Steinberg is finally making your dreams come true by opening up his exclusive & invitation only to all that can buy their (golden) ticket to his 33rd Annual Super Bowl Party! Just like Mr. Steinberg helps you get a chance to attend his party, help Make A Wish wishes come true buy purchasing one of these tickets that benefits their amazing charity. Steinberg is known as an amazing agent, but throughout his philanthropic tenure, he has directed more than $750 million to various charities around the world. Leigh has a talent of representing many of the most successful athletes and coaches in football, basketball, baseball, hockey, boxing, golf, etc., including the number one overall pick in the NFL draft for an unprecedented eight times in conjunction with 62 total first round picks! You'll never know what high profile NFL & MLB Athletes and Celebrities will be amongst you, as last year Patrick Mahomes was at this very party! One of the coolest parts of attending the biggest, if not the biggest star athlete Patrick Mahomes' agent's party the day before watching him play in the Super Bowl is the interaction guests will have with the 2020 Steinberg NFL Draft Class and veteran NFL clients, exhibits, studies & featured technology centered around football.
We at Supersundayhq think Leigh Steinberg is a class act and one of our Star reporters Gill Biesold-McGee had a chance to catch up to him at his party last year! Steinberg talks all about Mahomes and his playing style. You could just see how proud he is of his unbelievable friend and client. We all know that Leigh Steinberg is the real Jerry Maguire, so come on over to the party and "Show (Make A Wish) the money!
For Tickets and More Details Click HERE
Party Features:
• A VIP gathering (Steinberg Sports, Make A Wish, Brain Health Summit)
• Benefiting the Make A-Wish Foundation
• Brain Health Summit Symposium
• Networking with corporate sector CEO's Executives, Business Owners, Entertainment & Sports Influencers
• High profile NFL & MLB Athletes and Celebrities
• Exhibits, studies & featured technology centered around football
• Interaction with 2020 Steinberg NFL Draft Class and veteran NFL clients