29 Jan

THE ROAD TO MIAMI SUPER BOWL PARTIES AND PREGAME TAILGATES: LEGENDS FOR CHARITY – THE PAT SUMMERALL AWARD BENEFITING ST. JUDE CHILDREN'S RESEARCH HOSPITAL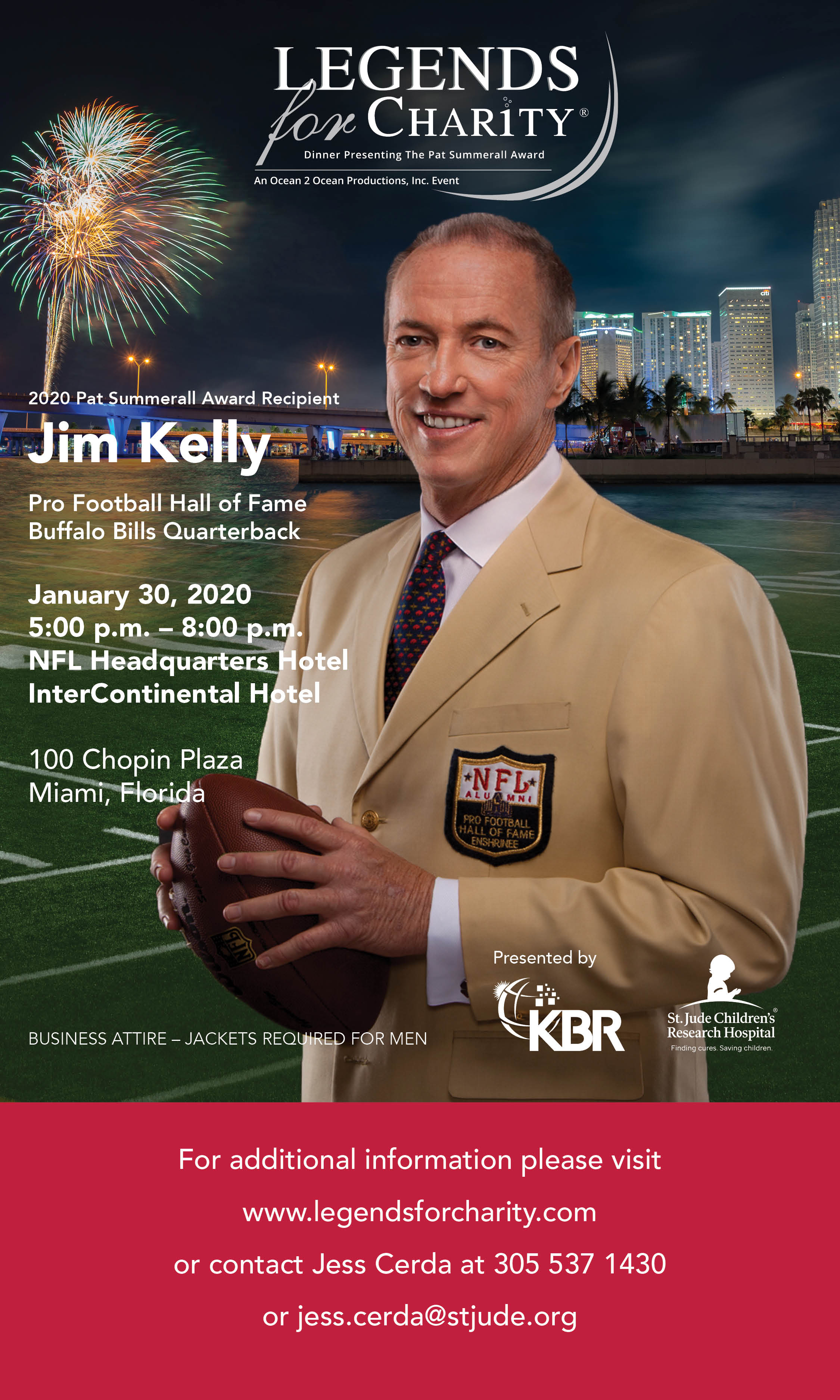 LEGENDS FOR CHARITY – THE PAT SUMMERALL AWARD BENEFITING ST. JUDE CHILDREN'S RESEARCH HOSPITAL

WHEN: Thursday, January 30, 2020
5 – 8 p.m.
WHERE: InterContinental Miami
100 Chopin Plaza
Miami, Florida

TICKETS & DONATIONS: HERE
 Individual – $300 (limited availability)

It's that time of the year again for the 15th annual Legends for Charity Dinner! The Legends for Charity was created in 2005 by Cheryl DeLeonardis, President of Ocean 2
Ocean Productions. This amazing event takes place in Miami on Thursday, January 30, during the Super Bowl LIV weekend. This dinner is one of the best fundraising Super Bowl week events! It has raised over $7 million since its inception and continues to benefit the lifesaving mission of St. Jude: Finding cures. Saving children.  Pro Football Hall of Fame 
Jim Kelly will be the 
2020 Honoree. 
Past honorees include: James Brown, Greg Gumbel, Jim Nantz, Chris Berman, Cris Collinsworth, The NFL ON FOX, Al Michaels, Archie Manning, Michael Strahan, Joe Buck, John Madden, Rich Eisen, Tony Dungy and Bill Cowher.

ABOUT: Legends for Charity-The Pat Summerall Award
During Super Bowl XXXIX in Jacksonville, Fl in 2005 Pat Summerall was selected by Cheryl DeLeonardis, president of Ocean 2 Ocean Productions as the honoree for her inaugural event The Legends for Charity Luncheon. The reaction and turnout were more than anyone anticipated as notable NFL broadcasters such as Troy Aikman, Greg Gumbel, Jim Nantz, Cris Collinsworth, Lesley Visser and Dick Stockton to name a few turned out to pay tribute to the man who laid the groundwork for each of their own career paths.
Realizing the impact this giant in the broadcasting industry had on others, with the blessing of both Pat and Cheri Summerall, The Pat Summerall Award was created and a new tradition during Super Bowl would be set. The award was created to honor a national broadcaster or prominent sports personality who exemplified the characteristics Pat Summerall wanted the award to represent – an individual who has had an outstanding career and who has made a significant impact in their community. Commencing at Super Bowl XL in Detroit in 2006, Pat Summerall personally chose the honoree and presented the award in person annually during Super Bowl Weekend until his death in 2013. Pat truly loved this event and loved even more that his name was somehow helping to save lives. His baritone voice and his legacy has continued to live on through this event and every child who walks through the doors at St. Jude.
ABOUT: St. Jude Children's Research Hospital St. Jude is leading the way the world understands, treats and defeats childhood cancer and other life-threatening diseases. The mission of St. Jude Children's Research Hospital is to advance cures, and means of prevention, for pediatric catastrophic diseases through research and treatment. Consistent with the vision of our founder Danny Thomas, no child is denied treatment based on race, religion or a family's ability to pay. Our approach makes us different from most children's hospitals. Learn more about seeking treatment for your child at St. Jude. Founder and entertainer Danny Thomas opened the doors to St. Jude in 1962 with the dream that "no child should die in the dawn of life." Unlike any other hospital, the majority of our funding comes from individual contributions. And thanks to generous donors, families never receive a bill from St. Jude.