07 Jan

THE ROAD TO MIAMI SUPER BOWL PARTIES AND PREGAME TAILGATES: BOOTSY BELLOWS ON THE WATER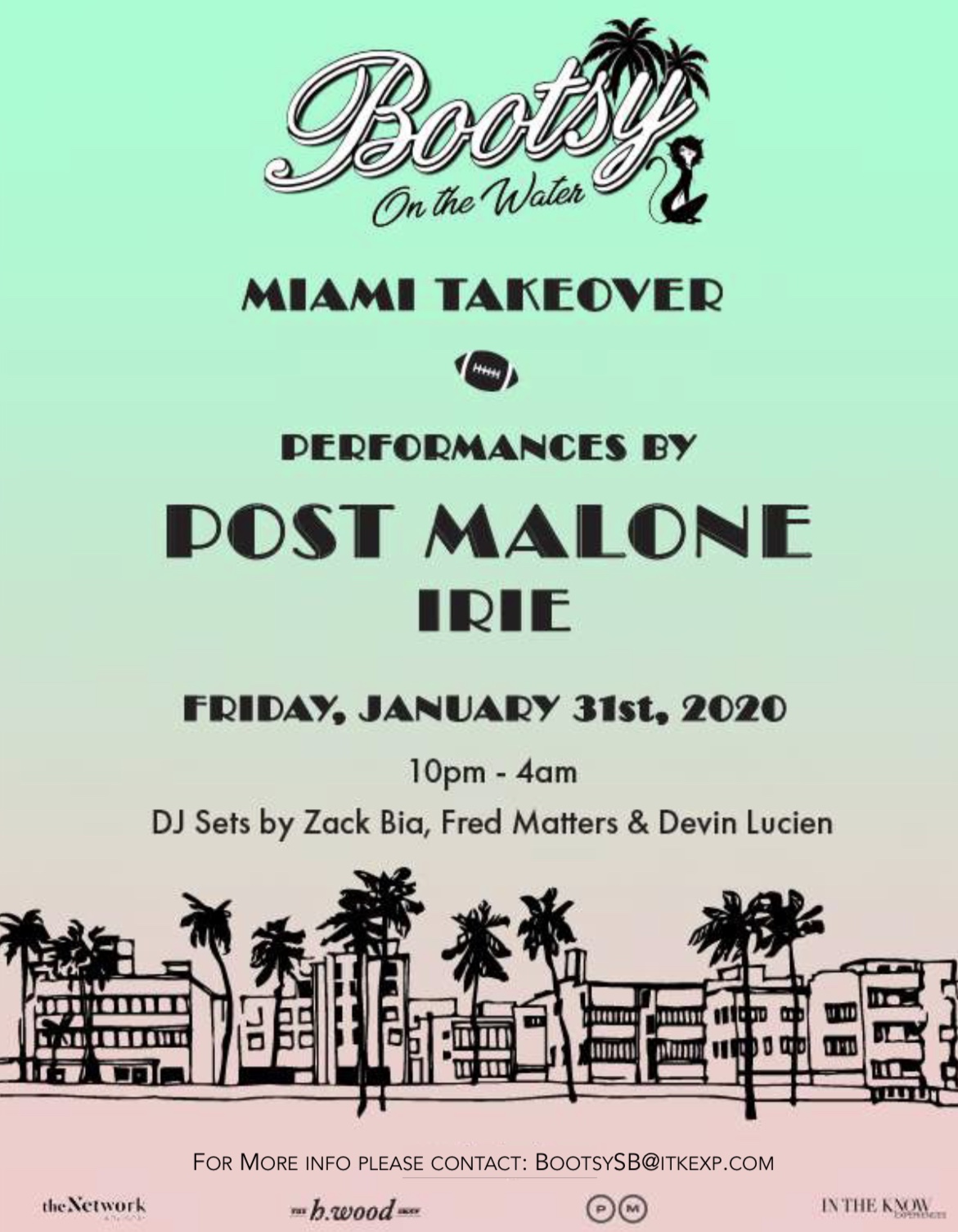 BOOTSY BELLOWS ON THE WATER
WHEN: January 31, 2020 Friday
LOCATION: POP UP VENUE AT 4200 RICKENBACKER CAUSEWAY, MIAMI FL
TIME: 10PM – 4AM

TICKETS: PURCHASE HERE
In the Know Experiences has partnered with h. wood Group and The Network Advisory to produce Bootsy Bellows On The Water. This pop-up celebration will take place on the Super Bowl Big Game Weekend for its 8th year in a row! It will feature celebrity hosts, special live performances by Post Malone, IRIE , DJ sets by Zack Bia, Fred Matters, Devin Lucien and among other surprises. It has been stated that this year's event will be the "BIGGEST Bootsy event in history and truly a once in a lifetime experience."
VIRGINIA KEY ISLAND is located just 5 miles from Downtown Miami and 10 miles from South Beach. Bootsy Bellows on The Water will take place on a private property on Virginia Key Island within Biscayne Bay. The venue is comprised of 5 acres on the edge of the water with views of the Miami Skyline and features a private marina for VIP yacht access. Guests will have the option of purchasing experiences to arrive via helicopter, yacht, or boat shuttle as the prices and packages are mentioned below. Guests and Attendees can purchase a 25 minute each way Round Trip Yacht Shuttle Ride Ticket to and from event pick up and drop off at a downtown location with dockside check in and arrival. Guests will also have a option to purchase a Private Yacht Flag, which grants personal yacht access to the marina VIP entry with each yacht subject to the coast guard approval of course! Yachts that are 65ft or larger will have their guests transferred into the marina activations! Partygoers that prefer a land arrival, there is no need to worry, as this event has VIP Parking entry with self park. As for entertainment, this giant event will feature immersive brand experiences
We at Supersundayhq have attended many of the Bootsy Bellows Big Game Weekend Celebrations and can tell you that the events themselves exude class and continue to have a great reputation for providing exceptional entertainment which has party goers coming back throughout all these years! Past attendees include Odell Beckham, Diplo, Patrick Mahomes II, Jesse Metcalfe, Jamie Foxx, Olivia Culpo, and More.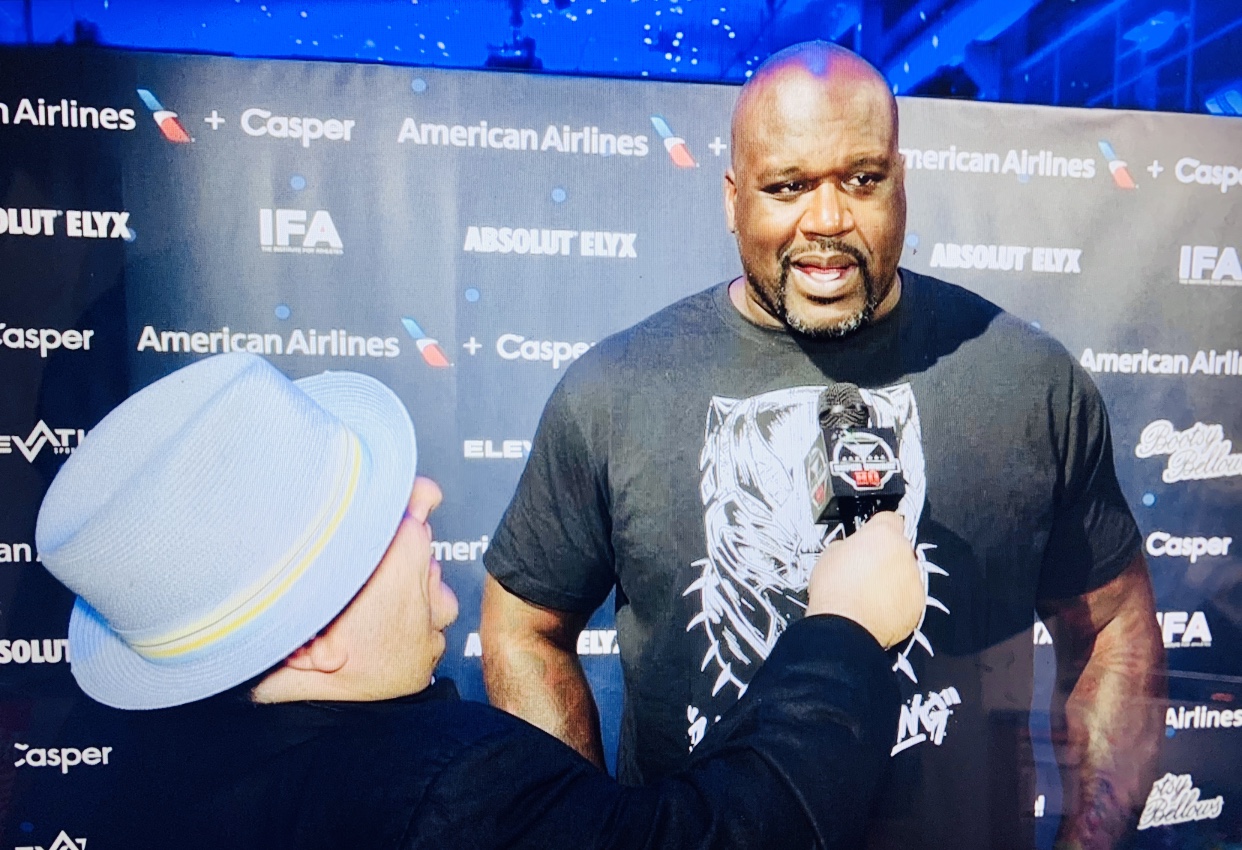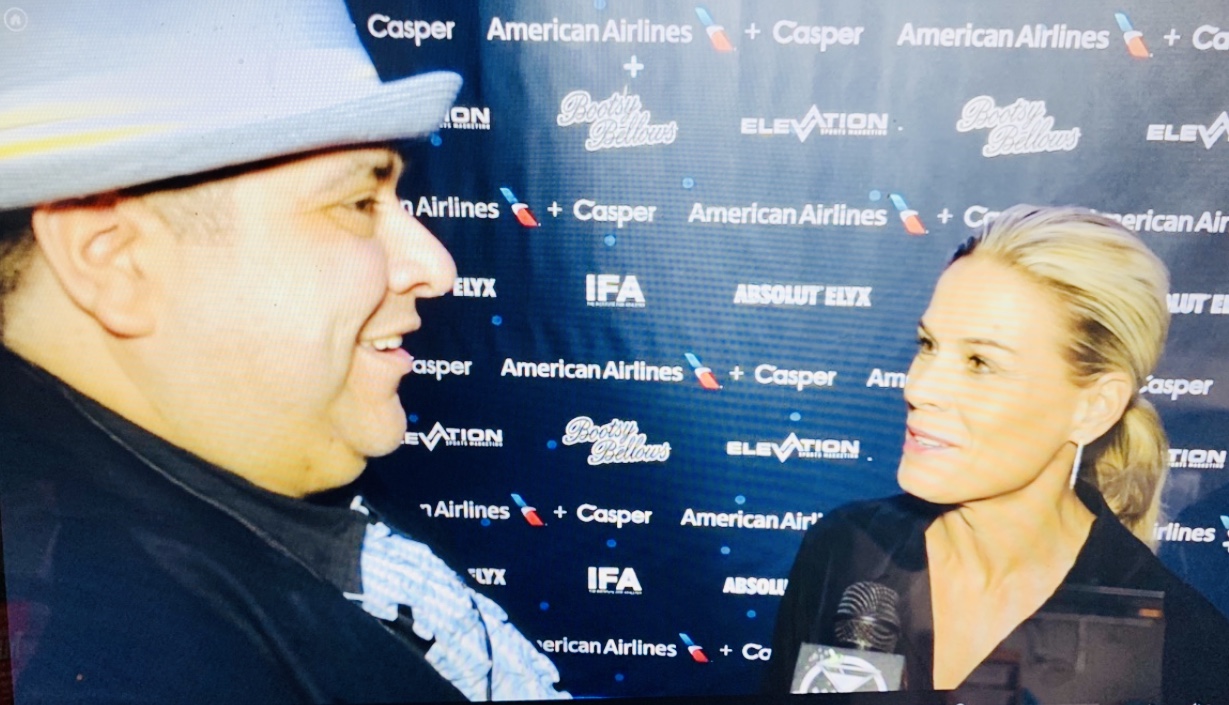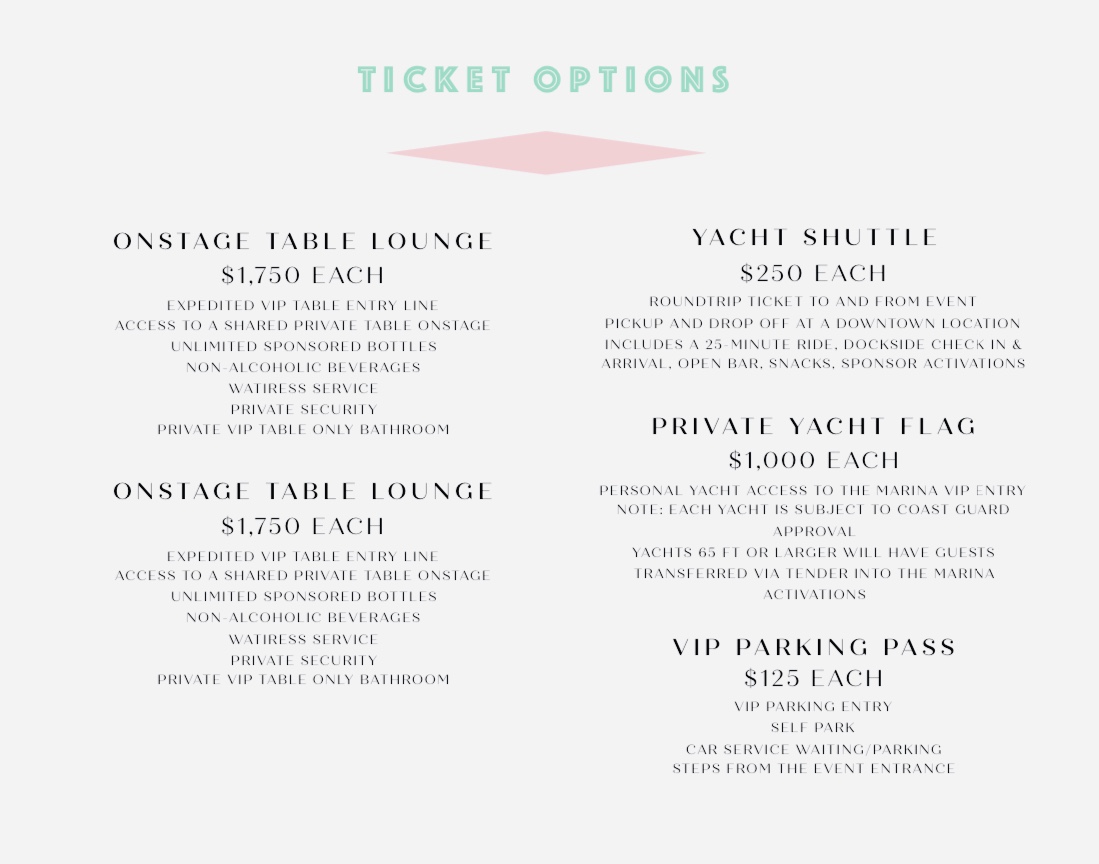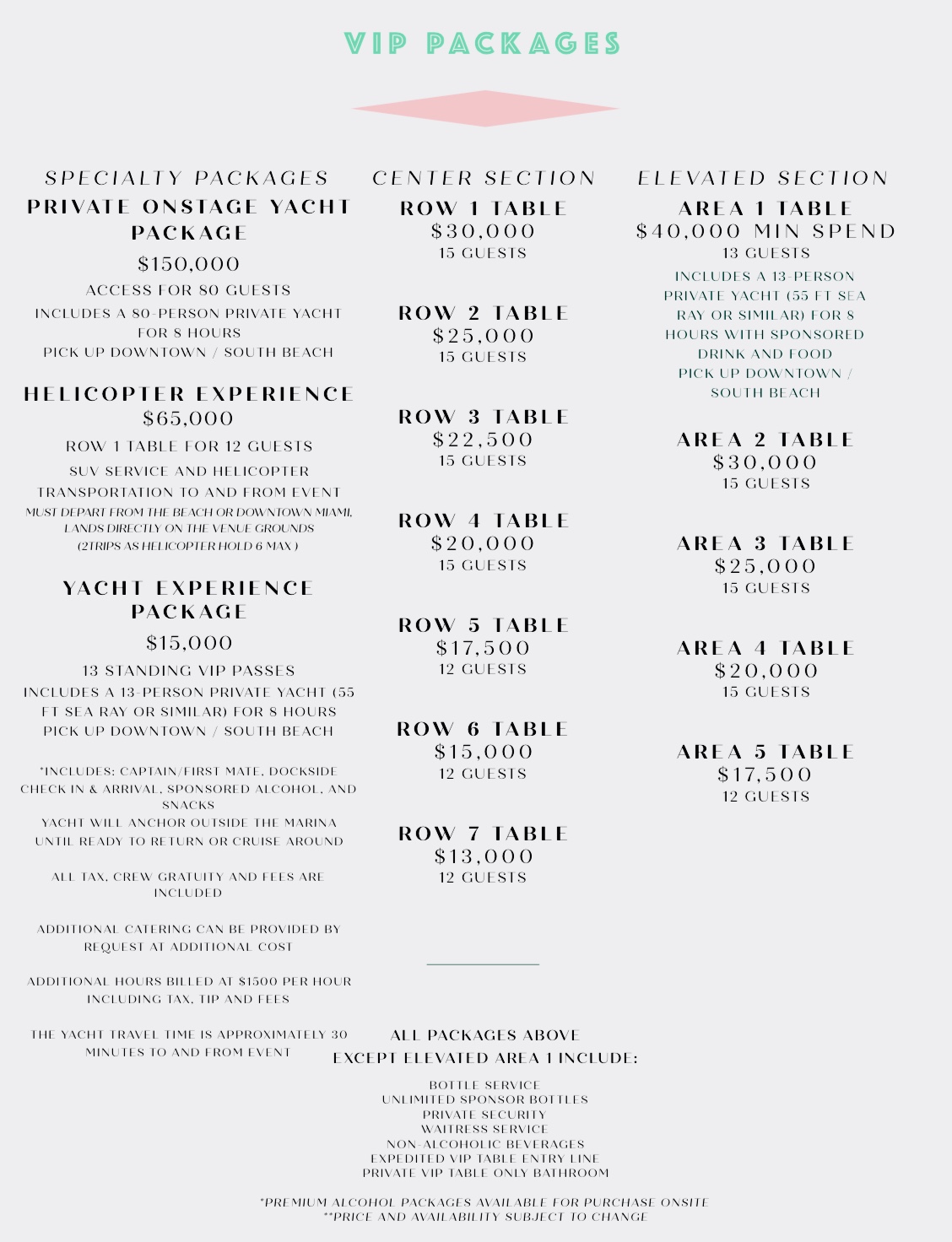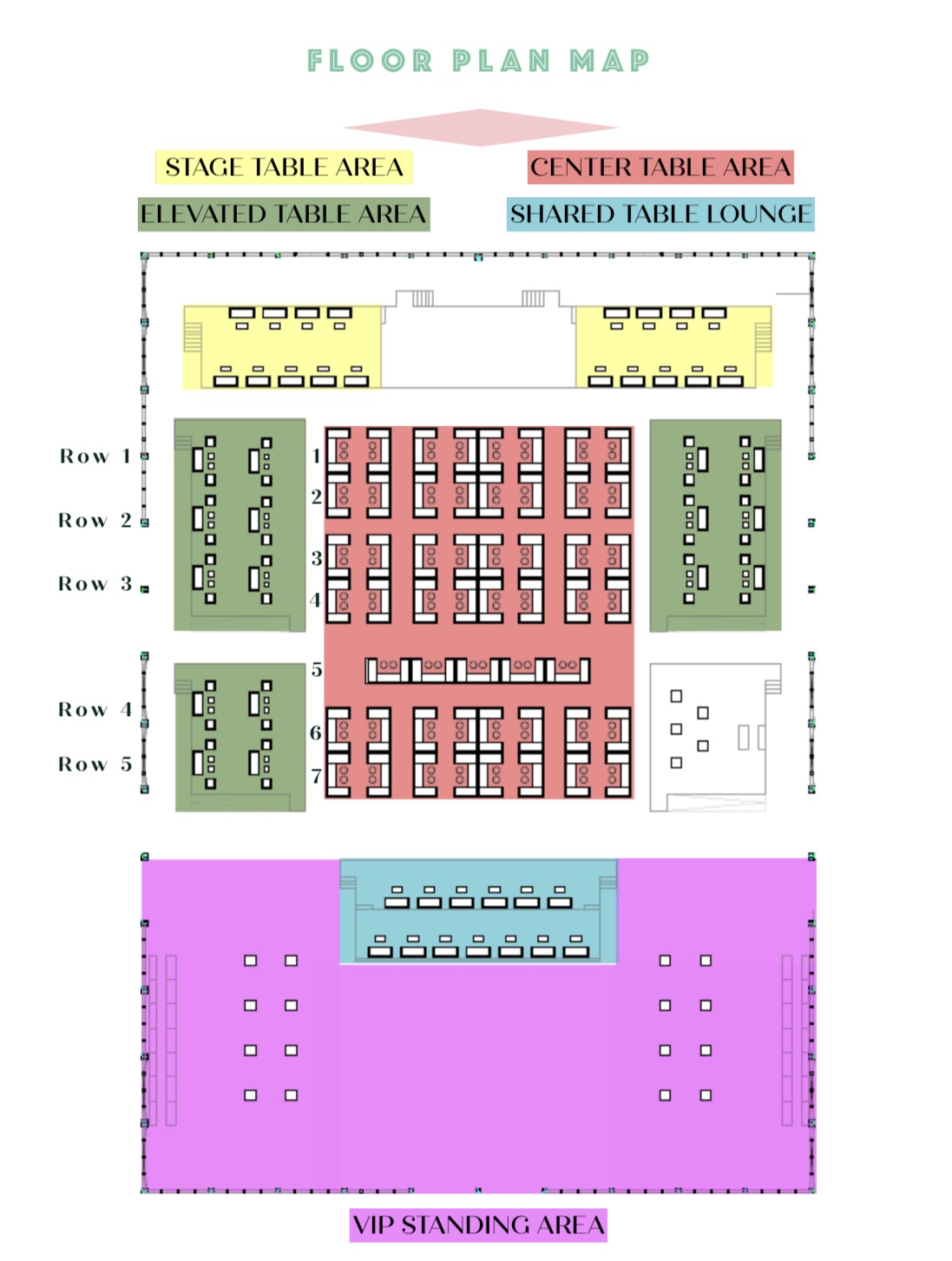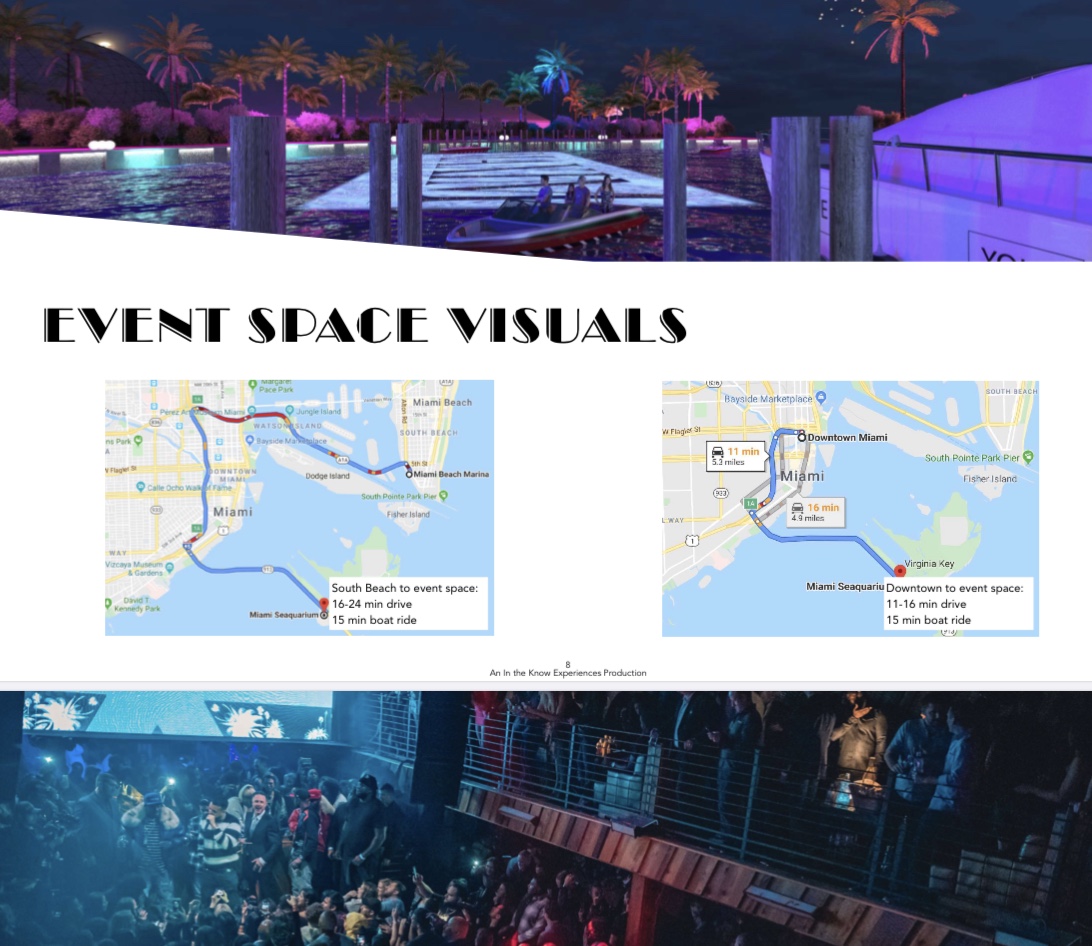 ABOUT: SPONSORSHIP
Bootsy Bellows on the Water will offer corporate partners branding opportunities, exposure, and hospitality. With a powerful network of influencers, celebrities, entrepreneurs, and industry leaders, The h.wood Group will curate the guest list, providing brand partners the unique opportunity to activate and engage an elite audience.
ABOUT: THE H.WOOD GROUP
The h.wood Group is a Los Angeles based hospitality and lifestyle company with a diversified portfolio of upscale nightlife & restaurant venues. Born and raised in Los Angeles, longtime friends John Terzian and Brian Toll established The h.wood Group in 2008 after years of working independently. Their vision was born out of a need to bring high-end, thoughtful and detailed concepts to the Los Angeles market and, eventually, all over the world. With a love of catering to the friends and family whom they had grown up with, Terzian and Toll spent their time tending to their every social need. To this day, this emphasis on service remains at the core of The h.wood Group.
It began with one nightclub, where h.wood friends and family could convene, and today, the company is responsible for some of the most iconic brands in the world, including Delilah, The Nice Guy, and Bootsy Bellows, among many others. With thirteen venues in Los Angeles, five others across the nation and four new ones on the horizon, The h.wood Group is rapidly expanding. Its multi-concept portfolio is uniquely positioned to cater to different markets while staying true to its core values — distinct aesthetics, world-class service and palpable atmosphere. With an emphasis on art and fashion the company's projects seek to reflect and impact popular culture on both local and global scales.
ABOUT: BOOTSY BELLOWS
Step into the residential haven that is Bootsy Bellows. First introduced in 2012 by actor David Arquette and The h.wood Group, the space mirrors Frank Sinatra's 1940s Palm Springs home. From the pink banquettes to the lush greenery, the venue breaks the mold on traditional nightclub aesthetics with its luxurious, residential feel. Combining a variety of live entertainment, including DJs, music performances and puppets, the locale is a decadent playground for adults. Named after Arquette's mother, a burlesque dancer and pinup model in her time, Bootsy Bellows is a spectacle in a class of its own. More than a venue, Bootsy Bellows has become a luxury lifestyle brand for pop-ups during culturally celebrated events, both nationally and internationally. The brand is widely known for curating celebrities, tastemakers, influencers and top-tier talent for an unparalleled experience.
ABOUT: POST MALONE
Within five years of his debut, Grammy-nominated, American rapper and singer/ songwriter Post Malone went from genre novelty to certified superstar, amassing a string of top ten singles with a hybrid style. Known for his laconic vocal delivery, introspective lyrics, and unique hip-hop production, his music is inspired as much by Kanye West as Tim McGraw. After the release of his 2015 quintuple-platinum single "White Iverson", he quickly rose to the top of the music mainstream with a succession of multi-platinum hits. His chart-toppers include"Rockstar" with 21 Savage, "Psycho" with Ty Dolla $ign from 2018's number one, Grammy-nominated album Beerbongs & Bentleys, and the Grammy- nominated "Sunflower" with Swae Lee. Post Malone's latest album, Hollywood's Bleeding features an array of artists, including Da Baby, Future, Halsey, Meek Mill, Lil Baby, SZA, Travis Scott and Ozzy Osbourne, and went straight to number one on the Billboard 200.
ABOUT: IN THE KNOW EXPERIENCE
Are a full-service lifestyle company, with strong areas of expertise in the luxury travel, private events, fashion, nightlife and marketing industries. With over a decade of experience, we specialize in managing front of house operations and overseeing ticket, table and hospitality sales for premier events around the globe. Past notable events that in the know experiences' handled all ticketing & event hospitality include the Rolling Stone Super Bowl Party in various locations, the Maxim Super Bowl XLVIII Party in New York City and Atlanta, Playboy Super Bowl 50 Party in San Francisco, and more…
ABOUT: THE NETWORK ADVISORY
The Network Advisory accelerates and advises top talent, brands and companies. The team helps businesses reach their goals by leveraging its resource-rich platform, which includes strategy, consulting and capital all powered by its extensive network of impactful relationships. Its strategic focus, expertise and invaluable network provides the necessary guidance to create long-term relationships.
The Network Advisory is comprised of highly-motivated and proven operators and experienced veterans with the knowledge, extensive network and track record of value creation.

For Tickets and More Event Details click HERE