04 Dec

THE ROAD TO MIAMI SUPER BOWL PARTIES AND PREGAME TAILGATES: AT&T TV SUPER SATURDAY NIGHT IN MIAMI WITH LADY GAGA AS THE HEADLINER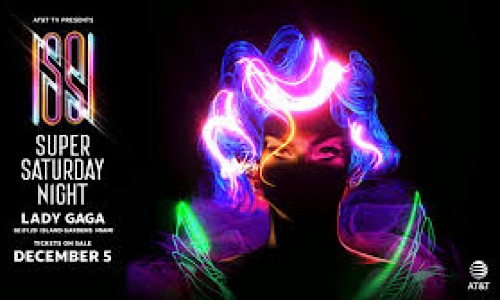 Lady Gaga will be headlining the 10th Anniversary of AT&T TV Super Saturday Night in Miami, FL, on Feb. 1, the evening before Super Bowl . Gaga is no stranger to Super Bowl festivities, as she gave a legendary performance at the halftime show for Super Bowl LI at NRG Stadium in Houston on Feb. 5, 2017.
The concert is located at the Meridian at Island Gardens, a 65,000-square-foot entertainment complex on Watson Island.
As always, AT&T TV has hand picked an exceptional venue as to enhance the experiences of all the event goers with the intention to magnify their performers. Their venues can really add to the atmosphere allowing the performers to shine & we at Supersundayhq can vouch for this as we have attended most of them throughout our 13 year tenure! Also, be on the lookout for surprise guests as many have shown up in the past! Some of the past AT&T TV Super Saturday Night headliners have included: Taylor Swift, Jay-Z & Beyoncé, Rihanna, Kanye West, Justin Timberlake, Katy Perry and Jennifer Lopez.
Tickets for Lady Gaga's Super Saturday Night Feb 1st Event at Meridian go on sale at 10 a.m. ET, Tuesday, Dec. 10 through their website att.com/supersaturdaynight. Or press HERE
Ticket prices will be confirmed on Dec. 10, too, said a representative for AT&T. AT&T TV Super Saturday Night will be livestreamed at twitter.com/ItsOnATT
*About AT&T Communications
We help family, friends and neighbors connect in meaningful ways every day. From the first phone call 140+ years ago to mobile video streaming, we innovate to improve lives. We have the nation's fastest wireless network.** And according to America's biggest test, we have the nation's best wireless network.*** We're building FirstNet just for first responders and creating next-generation mobile 5G. With a range of TV and video products, we deliver entertainment people love to talk about. Our smart, highly secure solutions serve nearly 3 million global businesses – nearly all of the Fortune 1000. And worldwide, our spirit of service drives employees to give back to their communities.
AT&T Communications is part of AT&T Inc. (NYSE:T). Learn more at att.com/CommunicationsNews.
AT&T products and services are provided or offered by subsidiaries and affiliates of AT&T Inc. under the AT&T brand and not by AT&T Inc. Additional information about AT&T products and services is available at about.att.com. Follow our news on Twitter at @ATT, on Facebook at facebook.com/att and on YouTube at youtube.com/att.
© 2019 AT&T Intellectual Property. All rights reserved. AT&T, the Globe logo and other marks are trademarks and service marks of AT&T Intellectual Property and/or AT&T affiliated companies. All other marks contained herein are the property of their respective owners.
**Based on analysis by Ookla® of Speedtest Intelligence® data average download speeds for Q3 2019. Ookla trademarks used under license and reprinted with permission.
***GWS OneScore, September 2019.