20 Jan

THE ROAD TO LOS ANGELES SUPER BOWL PARTIES AND PREGAME TAILGATES: THE H.WOOD GROUP & REVOLVE HOST "HOMECOMING WEEKEND"  THE EXCLUSIVE TWO NIGHT EVENT WITH A PERFORMANCE BY JUSTIN BIEBER PRESENTED BY MALÏBU & PRODUCED BY UNCOMMON ENTERTAINMENT






THE H.WOOD GROUP & REVOLVE HOST "HOMECOMING WEEKEND"  THE EXCLUSIVE TWO NIGHT EVENT WITH A PERFORMANCE BY JUSTIN BIEBER PRESENTED BY MALÏBU & PRODUCED BY UNCOMMON ENTERTAINMENT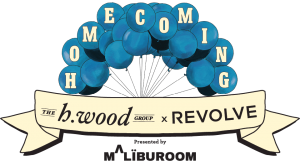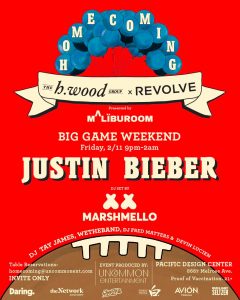 TIME: 9pm-2am
WHEN: Friday February 11, 2022
WHERE: Pacific Design Center 8687 Melrose Ave West Hollywood CA 90069
TICKETS: Invite Only
REVOLVE with John Terzian and Brian Toll of The h.wood Group are hosting a special 2-day "Homecoming Weekend"
"We are excited to partner with John, Brian and the h.wood team for this exciting lifestyle moment in our mutual hometown of Los Angeles. Our brands are very aligned with our respective offering of next-level cultural experiences from
Zfashion and travel, to music and sports. The Super Bowl brings all of these arenas together for the ultimate entertainment event, and the timing couldn't be better as we expand our reach into the menswear market in 2022," Michael Mente, co-founder and co-CEO, REVOLVE Group, INC. 
These exclusive, invite only, events are produced by Josh Zipkowitz and Jake Nussbaum of Uncommon Entertainment. It's presented by MALÏBU and along with host, REVOLVE, will also be providing the curated activations that guests will experience throughout the events.
These events will take place in West Hollywood, at the Pacific Design Center, in a converted event space outside & will be entertaining a total of 1,500 guests each night. These guests will include the many of the biggest names in sports fashion music and entertainment! Friday night's performer will be Justin Bieber with a special deejay set by Marshmello, featuring DJ Tay James, WE THE BAND, DJ Fred Matters and Devin Lucien. We at SSHQ are excited to hear Justin's music and see whom of his friends will be in attendance! We know that the show will be amazing since all of our past experiences with the producers of these events has been sensational & immaculately orchestrated. Past Attendeesto their events: Chris Evans, Kendall Jenner, Hailey Beiber, Diddy, and Winnie Harlow and featuring performances from Gucci Mane, French Montana, Tiesto, Post Malone, and more.
The party food & beverage options will feature Daring Foods Plant-based chicken bites. Beam Suntory will be providing premium spirits such as: Suntory Haku Vodka,  El Tesoro Tequila, Maker's Mark and Jim Beam, Pernod Ricard's Perrier-Jouët, Avion 44 Reserva and Bud Light Seltzer. Liquid I.V. will be providing the hydration. GHOST Energy custom beverages will be in stock.
We are thrilled to be covering these phenomenal parties in the midst of Super Bowl weekend.
ABOUT:REVOLVE
REVOLVE is the next-generation fashion retailer for Millennial and Generation Z consumers. As a trusted, premium lifestyle brand and a go-to source for discovery and inspiration, REVOLVE delivers an engaging customer experience from a vast yet curated offering of over 45,000 products. Founded in Los Angeles in 2003 by co-CEOs, Michael Mente and Mike Karanikolas, REVOLVE's family of brands includes their luxury offering, FWRD.com, and a portfolio of owned brands such as Lovers + Friends, Tularosa, NBD, and RAYE. For more information, please visit www.revolve.com, or find us on Instagram, Twitter, Pinterest, and Facebook.
ABOUT: The h.wood Group 

Founded by successful entrepreneurs John Terzian and Brian Toll, the independently owned and operated The h.wood Group's restaurant, nightlife, and events divisions manage restaurants, nightlife and hotel venues across the world. The global hospitality firm includes restaurant concepts The NICE Guy LA, The NICE Guy Aspen, The NICE Guy Dubai, Delilah LA, Delilah Las Vegas at Wynn Hotel, Delilah Miami, SLAB, Petite Taqueria, and hospitality venues include Bootsy Bellows, Poppy, Harriet's at 1 Hotel West Hollywood, Harriet's at 1 Hotel Toronto, SHOREbar, and 40 LOVE. The h.wood Group's Events Division has been responsible for premier events globally, from Los Angeles to New York, London to Monte Carlo, and has received multiple awards and international recognition for its design and execution. For more information, please visit the website: www.hwoodgroup.com. 
ABOUT: MALÏBU
World's First Crypto Concierge has arrived. We transact crypto fast! MALÏBU is a Proprietary Crypto Acquisition Concierge Service.  We've revolutionized the crypto purchasing process (present and future) and built a platform with its own proprietary code and speed to make it MUCH more simple and effective at handling your crypto transactions. We've found that most people spend hours on research and watching crypto tutorials, taking pages of notes just to feel… more confused. With MALÏBU you're just a few clicks away from sending & receiving crypto instantly. You can use your wallet or ours. We do all the conversions, the waiting, and transfer for you. For more information, please visit: https://maliburoom.com. 
ABOUT: Uncommon Entertainment 
Uncommon Entertainment is a full service event management and production company with strong expertise in high end live entertainment experiences, event sponsorships, nightlife and marketing industries. With over a decade of experience, we specialize in taking events to another level, managing front of house and ticketing operations, experiential hospitality sales, event sponsorship, logistics and production for premier exclusive events around the globe. The Uncommon Entertainment Team has been producing events in major cultural moments for almost a decade and recently rebranded. A few key events that Uncommon Entertainment produced was the Bootsy Bellows Big Game Pop Up with Post Malone, the Palm Tree Music Festival in the Hamptons with KYGO, Zedd & Gryffin and the Sports Illustrated x Bootsy Bellows Formula 1 After Party in Austin Texas with The Chainsmokers and Travis Scott. For more information, please visit: https://www.uncommonent.com. 
ABOUT: Daring Foods 
Daring Foods is the leading plant-based chicken brand, founded with the mission of removing chicken from the global food system. The plant-based chicken is made with simple, natural ingredients and looks, cooks and tastes like its animal-based counterpart. Daring Foods is non-GMO and high in protein, with 10-14g of protein per serving. For more information, please visit: https://www.daring.com. 

ABOUT: Liquid IV
Liquid I.V. is a health-science nutrition and wellness company based out of El Segundo, CA, created to fuel life's adventures. Their drink mixes are great tasting, non-GMO, made in the USA, and contain no artificial ingredients. Liquid I.V. utilizes Cellular Transport Technology (CTT®) designed to enhance rapid absorption of water and other key ingredients into the bloodstream – helping consumers feel better, faster. 1 stick of Liquid I.V. can provide 2-3x the hydration of water alone and contains 5 essential vitamins. As part of their 1 to1 Giveback Mission to Change the World, Liquid I.V. has donated over 5 million servings to people in need around the globe. Liquid I.V. can be found in more than 30,000 locations across the country including the world's leading specialty, big box and online retailers including: Costco, Whole Foods, Target, Amazon, CVS, Walgreens, Albertsons, and many more. For more information, please visit: www.liquid-iv.com.
ABOUT: Bud Light Seltzer
The Bud Light Seltzer roster of products offer the "Loudest Flavors Ever." From the brands Classic flavors, to Retro Tie Dye variety pack and now to bold Hard Soda profiles, Bud Light Seltzer continues to disrupt the seltzer category delivering on its promise of flavor and fun.  For more information, please visit: https://www.budlight.com/our-seltzers/bud-light-seltzer/. 
ABOUT: GHOST
Born at the intersection of fitness, music and culture, GHOST is a lifestyle brand of active nutrition products. GHOST products combine transparent, innovative formulas and were the first to feature authentic collab flavors with the world's leading brands including Oreo®, Sour Patch Kids® and Warheads®. Last year, GHOST launched GHOST Energy, an energy drink featuring premium ingredients and the same authentic flavors, as a joint venture with Anheuser-Busch. GHOST products are available globally in over 55 countries while GHOST Energy is rolling out nationwide in major chains including 7-Eleven, Kroger, QT, GNC and Circle K. For more information, visit: ghostlifestyle.com or connect with GHOST on Instagram, Twitter, or Twitch.