18 Jan

THE ROAD TO LOS ANGELES SUPER BOWL PARTIES AND PREGAME TAILGATES: DIRECTV PRESENTS ELECTRIC NIGHTS WITH MAXIM GUEST HOST 50 CENT FEATURING LOUD LUXURY, DJ VICE AND HEADLINER TIESTO






MAXIM AND UNKOMMON EVENTS ANNOUNCE THE 21st ANNUAL MAXIM BIG GAME EXPERIENCE

 ELECTRIC NIGHTS PRESENTED BY DIRECTV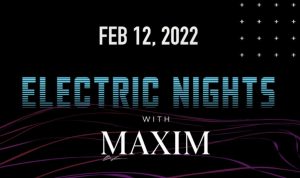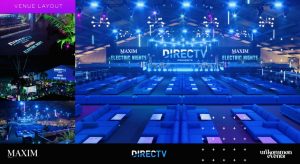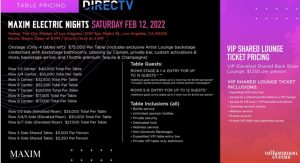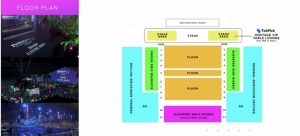 WHEN: Saturday February 12, 2022
TIME: 8pm-2am
WHERE: The City Market of Los Angeles 1057 San Pedro St. Los Angeles CA 90015
TICKETS and VIP Packages: Click Here
DIRECTV presents MaximBet Music at the Market and Maxim Electric Nights will adhere to a rigorous COVID-19 safety protocol, Guests will be required to show proof of vaccination or a negative COVID test to gain entry. Rapid testing will be onsite if they do not have either.
This year's big Saturday night party, Electric Nights: presenting sponsor DirecTV with Maxim, is being guest hosted by 50 CENT, performances by Loud Luxury and DJ Vice, with headliner Tiesto. Like all Maxim parties, there will be many celebrities, athletes, influencers, and executives that will be coming together to celebrate in style. In the past, SuperSundayHQ has covered Maxim events for many years with some of our fondest memories of riding in bumper cars in Texas, taking a ferry to their event in Miami or riding in a race car around Treasure Island in San Francisco! Speaking of transportation, this years party will have available VIP Packages for purchase that include: helicopter, tour bus, or a Rolls Royce, to help get you to the venue. Please click here for the details & cost on transportation and VIP table packages.  unKommonevents.com.
This year's "Maxim Electric Nights" will showcase an upscale 1980's retro-futuristic theme. The classic pastels & neon that will be electrified & dabbled around the venue to create an ambience of the '80's with the crispness of modern standards. The party will take place on a 50-acre indoor-outdoor open-air marketplace space with a custom 45,000 square foot build-out that will transport guests into an interactive wonderland immersive brand activations with many surprises.
"We're looking at this year's event as a way to 'make up' for the last two years in lockdown," said Seth Kaplan, Founder of unKommon events.  There will be many different experiences that "Maxim Electric Nights" party will have. They will feature a branded backstage artist lounge with a unique gifting for approximately 300+ VIP guests. Also, TickPick will host an exclusive OnStage Table Lounge. OnStage ticket holders will get a chance to walk the red carpet, complimentary open bar, and bottle service. And SimWin Sports will allow fans to engage with the league and earn by collecting, trading, and managing player NFTs. Also, SimWin Sports, will offer all ticket holders a rare celebrity poker experience hosted by World Series of Poker champion Jamie Gold.
For the first time in history, every guest in attendance will receive a Maxim Electric Nights Collectible NFT Ticket Stub, inclusive of custom art by a surprise renowned artist and muralist. Ticket holders can scan their NFT tickets for a chance to win an in-person experience, inclusive of backstage access and a meet and greet with performers and talent, at Maxim Electric Nights, for a true digital-meets-live experience.
Past Attendees Include: A$AP Rocky, Adrienne Bailon, Odell Beckham Jr., Brie and Nikki Bella, Justin Bieber, Dez Bryant, Nick Cannon, Cardi B, The Chainsmokers, Victor Cruz, Diplo, DJ Khaled, Chris Evans, Anna Faris, Fergie, Larry Fitzgerald, Flo Rida, Jamie Foxx, Future, Kevin Hart, Joe Jonas, Camille Kostek, Lil' Wayne, Ludacris, Lost Kings, Patrick Mahomes, Post Malone, Floyd Mayweather, Paul McCartney, Anna Lynne McCord, Megan Thee Stallion, Alyssa Milano, Dak Prescott, Josh Norman, Terrell Owens, Chris Pratt, Rick Ross, Travis Scott, and Teyana Taylor,
For sponsorship opportunities to both events, please email maximsb@unkommonevents.com.
ABOUT: MAXIM
Maxim is the world's leading men's luxury lifestyle brand with a voice that is both aspirational and inspirational. Maxim celebrates the best of the best by covering the most beautiful women in the world, exotic destinations, supercars, style, entertainment, food & drink, artists, athletes and self-made business titans. Maxim publishes multiple international editions distributed in 75 countries. Check out www.maxim.com and follow Maxim on Instagram, Facebook and Twitter.
ABOUT: UNKOMMON EVENTS
From the co-founder of In the Know Experiences, which was acquired Summer 2021 by the private equity firm Internova, unKommon events is a full-service event management and production company with strong expertise in high end live entertainment experiences, event sponsorships, nightlife, and marketing. With over a decade of experience, unKommon events specializes in taking events to another level, managing front of house and ticketing operations, experiential hospitality sales, event sponsorship, logistics and production for premiere exclusive events around the globe. For more please visit unkommonevents.com.