03 Feb

THE ROAD TO LOS ANGELES SUPER BOWL PARTIES AND PREGAME TAILGATES: 2022 KICKOFF PARTY TO BENEFIT THE MVP (MERGING VETS AND PLAYERS) JAY GLAZER






2022 KICKOFF PARTY TO BENEFIT THE MVP (MERGING VETS AND PLAYERS) JAY GLAZER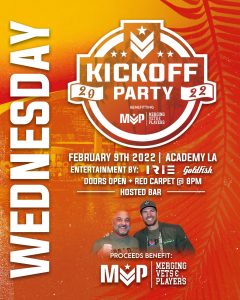 WHEN: Wednesday  February 9, 2022
TIME: 8pm-2am
WHERE: Academy LA, 6021 Hollywood Boulevard
TICKETS: $100 and up, VIP Tables available
For more details and to purchase tickets and VIP Tabled click HERE
In accordance with state and local guidelines, all guests must provide proof of full vaccination against COVID-19 in order to enter the venue. As guidelines are modified, The event will adjust their requirements accordingly. See event site for more details about Covid Protocol.
Jay Glazer and his friends return for their annual Wednesday Night Kickoff Party, benefiting MVP (Merging Vets and Players), the event will draw major athletes and celebrities who will support the NFL insider by raising funds for this great charity! Jay Glazer, Fox Sports NFL Insider, and Nate Boyer, former Green Beret and Seattle Seahawk, created MVP in 2015 and spent years working with warriors from the ring and the grid-iron. While many of these men and women struggle to apply their skills beyond their field of battle, the MVP organization helps by merging veterans with players.
We at Supersundayhq have had the privilege of covering this event for over a decade! It really is the best Kickoff Party during Super Bowl Party week! Jay Glazer really has a long list of celebrity friends and athletes, you never know who will show up! Glazer also has a way of helping others through these celebrations and we commend him for it! This year's event will be a red carpet celebrity charity event. They will have a hosted premium bar, food served in the Rams RedZone, and performances from Goldfish with a special DJ set from Irie.
The Kickoff Party will be at Academy LA located on Hollywood Blvd in Los Angeles has multiple indoor and VIP areas, also has 4,000 square foot beautiful outdoor area. We look forward to attending this great in person event once again!

ABOUT: Jay Glazer
Founder, Merging Vets & Players, Jay Glazer is best known for his work on FOX, covering the NFL and UFC. He has long been recognized as the nation's Top Insider for his role on the award-winning FOX NFL Sunday, where he consistently breaks huge news stories. Jay's success is attributed to his strong relationships with players, coaches and executives, and the respect he is accorded for being a man who is loyal, honest and hard working. Glazer, who has a deep background in mixed martial arts, is revered as a coach who created MMA Athletics, the first ever mixed martial arts cross training program for pro athletes. In the NFL alone he and his coaches have trained nearly over 200 players. Last year, Glazer opened Unbreakable Performance Center in Hollywood, CA with Bears future Hall Of Famer LB Brian Urlacher and the three-time Olympic team captain of the US Women's volleyball team, Lindsey Berg. In July of this year, Unbreakable was named by Yahoo as "The Most Elite Gym in America."
ABOUT: MVP (Merging Vets and Players)
Jay Glazer and Nate Boyer created MVP in 2015 to address this important challenge. Jay has spent years working with warriors from the ring and the gridiron, many of these men and women have also struggled to apply their skills beyond their field of battle. Nate is a U.S. Army Green Beret Veteran and former NFL athlete who played with the Seattle Seahawks. Living both lives as a veteran and former professional athlete, he brings years of paralleled experience of our members of the loss of identity, purpose, and community. MVP was created to leverage Jay and Nate's unique role at the crossroads of all of these warriors. By merging veterans with players, these warriors can benefit from each other's strengths, experience and abilities to unlock their full potential – and lead their families, communities and country towards a better future. Merging Vets and Players ensures these men and women know that the challenges they are facing are far more about who they are – Warriors – than what they did in the military or on the field. In reality, that is a title that no one can ever take from you.