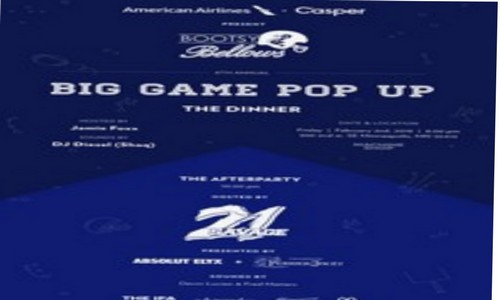 29 Jan

The 6th ANNUAL BIG GAME EXPERIENCE HOSTED BY JAMIE FOXX
The 6th ANNUAL BIG GAME EXPERIENCE HOSTED BY JAMIE FOXX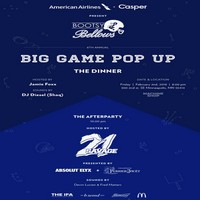 This Amazing Exclusive Invite Only Event, is presented by The h.wood Group's Bootsy Bellows, IFA, and ELEVATION Sports Marketing. In its sixth year,  Big Game Experience will maintain its A- list star power. Confirmed guests: Jamie Foxx, Shaquille O'Neal, 21 Savage, including, Hall of Famers, Jerome Bettis, Ray Lewis and many more! What makes this private event unique, is that its 3 events throughout the same day: Inside the Game: Insider Hall of Fame, Foxx & Friends Dinner, and Bootsy Bellows Big Game Pop Up. The Machine Shop, in Minneapolis, will start its first event of the day, a private Q&A luncheon. The luncheon will have a VIP meet and greet for sponsors and specially invited guests. The second event of the day, will be an invite only dinner and cocktail party. It will be hosted by Jamie Foxx, and will feature, Shaquille O'Neal, aka DJ Diesel on the turntables. The final event of the day, will have a live performance by 21 Savage and celebrity deejays, Devin Lucien and Fred Matters.
About The h.wood Group
Entrepreneur impresario duo, John Terzian and Brian Toll, formed The h.wood Group in 2008, a Los Angeles based Hospitality & Lifestyle company, which includes an upscale nightlife and restaurant division, corporate branding, real estate in development and event production.  The h.wood Group has vastly expanded their nightlife & restaurants portfolio with Bootsy Bellows LA, Bootsy Bellows Aspen, Blind Dragon LA & Dubai & Scottsdale, SHOREbar, The Peppermint Club, Poppy, The NICE GUY, Delilah and Petite Taqueria.  Due to an extensive and influential network, The h.wood Group has strategic access to pocket listings in highly desirable locations, and caters all venues to art, fashion, and creative segments to provide a warm welcoming environment for patrons from all walks of life.  In addition to leveraging a vast and influential network of relationships, our venues naturally become hubs for cross marketing opportunities. For more information on The h.wood Group, please visit: www.hwoodgroup.com
About Institute For Athletes (IFA)
Founded in 2009, the Institute For Athletes (IFA) is a full-service sports representation firm located in downtown Minneapolis. With the mission to provide "an over service" to its clients and their family members, IFA is one of the go-to firms in player management. Assisting athletes with everything from contraction negotiations, brand management, and draft preparation, meeting clients' needs and concerns are IFA's number one goals. www.theinstituteforathletes.com.
About ELEVATION Sports Marketing
Based in Minneapolis, ELEVATION sports marketing agency is focused on sports and lifestyle marketing in the Midwest — or as we call it, the Bold North. This focus allows both greater efficiency and effectiveness for our clients. Simply put, we connect consumer brands to sports and lifestyles, and we connect sports brands and lifestyle brands to consumers. We works with athletes, influencers, companies, organizations and events to elevate their brands to new heights with authentic marketing solutions that earn a place in the hearts and minds of sports and lifestyle enthusiasts.  By associating brands with various sports and lifestyles, we leverage the inherent passion of consumers to increase relevance and revenue.  We are builder of great brands and businesses. www.ElevateYourBrand.com