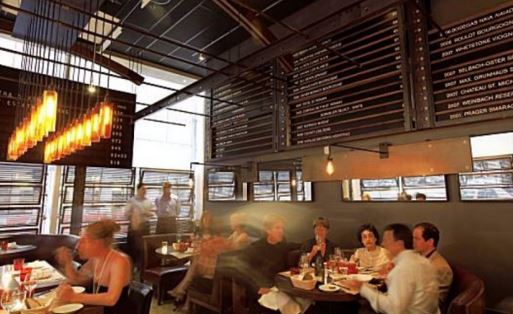 14 Dec

Michael Mina's RN74 Transforms Into "On The Fifty"

The NFL announced today, world-renowned chef MICHAEL MINA, founder of MINA Group, is teaming with the NFL and NFL Foundation to create On The Fifty – A Charitable Dining Experience restaurant at RN74 in the San Francisco Bay Area. Fans will have the opportunity to receive a taste of Super Bowl hospitality and participate in an interactive charitable dining experience benefitting the NFL Foundation in the days leading up to The Big Game.

On The Fifty will be located at Mina's iconic restaurant, RN74 (301 Mission Street, San Francisco) and will be open Monday, February 1 through Sunday, February 7 for lunch and dinner service. Located adjacent to the 50th Mile and Super Bowl City presented by Verizon, the restaurant will feature Super Bowl-themed décor. On The Fifty will also showcase autographed memorabilia available for purchase onsite, current and former NFL player appearances and more.

Mina's RN74 menu will be featured, making special nods to the game of football throughout the menu.

"The chance to combine my passion for food, football and giving back is an incredible opportunity," said Mina. "I'm so grateful that our restaurants have been invited to participate and represent San Francisco in Super Bowl 50. We're looking forward to showcasing the flavors of NFL cities from across the country as well as local Bay Area product, all benefiting the NFL Foundation."

To keep track of all the Super Bowl 50 Parties and events, make sure you visit Super Sunday HQ and get the mobile app, where you can scroll through all the star-studded parties, add Super Bowl events to your calendar, see exclusive party photos, and connect with other Super Bowl 50 partygoers and VIP's. Follow the links to get the #1 Insider's Guide to the Super Bowl:

AppStore: Super Sunday HQ App
Google: Super Sunday HQ App

Guests will also have the opportunity to bid on a number of unique NFL memorabilia and special experiential auction items starting today on NFLAuction.NFL.com/OnTheFifty. Money collected from sales of items, along with a portion of Super Bowl 50 restaurant proceeds collected during Super Bowl week, will support NFL Foundation charities. Among the memorabilia and packages available includes a V.I.P experience to Super Bowl 50.

A private event space located within the restaurant boasting NFL and Super Bowl theme décor is available to reserve for private parties or cocktail receptions during Super Bowl week. For reservations, fans may call over the phone at 415-543-7474 or online at michaelmina.net/restaurants/san-francisco-bay-area/rn74/.

This marks the second time in Super Bowl history the NFL has teamed to create a restaurant. Previously, the NFL created "Forty Ate" restaurant for Super Bowl XLVIII. On The Fifty restaurant is part of the year-long celebration of Super Bowl 50, which will be played on Sunday, Feb. 7, 2016 at Levi's Stadium in the San Francisco Bay Area.

For more information about all the ways the NFL is celebrating Super Bowl 50, visit SuperBowl.com, follow @SuperBowl on Twitter or hashtag #SB50.