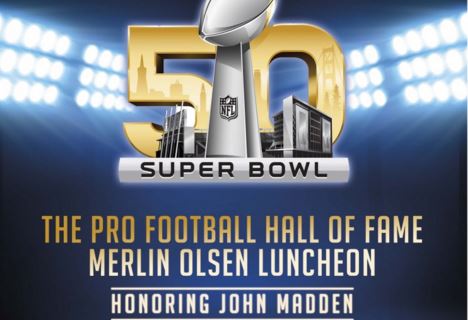 30 Nov

NFL Hall of Fame Merlin Olsen Luncheon

The NFL officially "kicks off" Super Bowl 50 with the Pro Football Hall of Fame Merlin Olsen Luncheon Honoring Super Bowl winning Head Coach and Emmy Award winning announcer John Madden & 49ers legend John Brodie on Friday, February 5, 2016 from 11:00am – 2:30pm at the Hilton San Francisco Union Square Hotel, 333 O'Farrell St, San Francisco, CA 94102.

VIP guests will get to enjoy a cocktail reception, seated lunch, get VIP access and hear stories from 40 Hall of Fame "Gold Jackets." Guests will get up-close and personal with the NFL legends of the game.
One of the more special intimate events
Take photos with 40 Gold Jackets and 40 NFL Legends
Have a Gold Jacket at your table
Receive exclusive one of  a kind autographed Lithograph of John Madden
Football Chalk Talk hosted by President David Baker
Cocktail Reception with Gold Jackets
Past attendees include: Roger Staubach, Emmitt Smith, Tim Brown, James Lofton, Marcus Allen, Ronnie Lott, Jack Youngblood, Anthony Munoz, Harry Carson, Joe DeLamielleure, Mike Haynes, James Lofton, Floyd Little, Dave Wilcox, Howie Long, Jonathan Ogden, Lynn Swann, Marv Levy
Here are some of the latest sponsorship opportunities. Full details can be found here.
Gold Sponsor – $100,000
40 Guests (4 tables)
Pre-Reception Player Meet & Greet (11:00 – Noon)
Gold Jacket seated at each table
TV/Cable Promotion – Comcast Sportsnet
Podium Announcements
On-Screen Recognition During Lunch
SF Chamber and HOF Website w/link to brand's website
SF Chamber and HOF Social Media Campaign
SF Chamber and HOF Digital Campaign
Limited Edition John Madden Autographed Lithograph
Silver Sponsor – $50,000
30 Guests (3 tables)
Pre-Reception Player Meet & Greet (11:00 – Noon)
Gold Jacket seated at each table
On-Screen Recognition During Lunch
SF Chamber and HOF Website w/link to brand's website
SF Chamber and HOF Social Media Campaign
SF Chamber and HOF Digital Campaign
Limited Edition John Madden Autographed Lithograph
Bronze Sponsor – $25,000
20 Guests (2 tables)
Gold Jacket seated at each table
On-Screen Recognition During Lunch
Limited Edition John Madden Autographed Lithograph
Table Sponsor – $10,000
10 Guests (1 table)
Gold Jacket seated at each table
Limited Edition John Madden Autographed Lithograph