18 Jan

MUST WATCH: MATT RYAN'S SUPER BOWL PARTY "DO'S & DON'TS" AND NEVER-BEFORE-SEEN AWKWARD FIRST SECONDS OF AARON RODGERS SUPER BOWL PARTY INTERVIEW
MUST WATCH: MATT RYAN'S SUPER BOWL PARTY "DO'S & DON'TS" AND NEVER-BEFORE-SEEN AWKWARD FIRST SECONDS OF AARON RODGERS SUPER BOWL PARTY INTERVIEW

This Sunday, The NFC Championship game will feature an amazing match-up between Aaron Rodgers and the Green Bay Packers & Matt Ryan and the Atlanta Falcons. One thing the two superstar quarterbacks have in common is that they both stopped to talk to Super Sunday HQ at Super Bowl Parties over the years. We spoke to Aaron Rodgers on the red carpet in 2009 at The Seminole Hard Rock Hotel's Rock N' Soul Party, and we talked to Matt Ryan at the invite-only Fanatics Super Bowl Party at Super Bowl 50.
In the first part of our video, watch our interviewer mistakenly thinks Aaron Rodgers is someone else. Once he figures out who the real Aaron Rodgers is, the interview goes smoothly, and viewers get to see a different side of the Packers star, who would ultimately win the Super Bowl the very next year in Miami, and be named Super Bowl MVP.
Will Matt Ryan get the same Super Sunday HQ mojo this year, having been interviewed last year? We ask Matt about proper Super Bowl Party etiquette and many other fun questions. Take a look. A must watch for anyone coming to to Houston this year.
Summary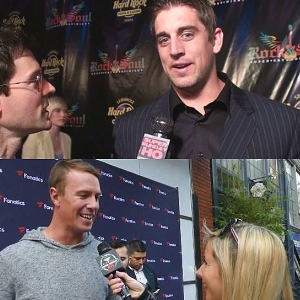 Article Name
MUST WATCH: MATT RYAN'S SUPER BOWL PARTY
Description
MUST WATCH: MATT RYAN'S SUPER BOWL PARTY "DO'S & DON'TS" AND NEVER-BEFORE-SEEN AWKWARD FIRST SECONDS OF AARON RODGERS SUPER BOWL PARTY INTERVIEW
Author
Publisher Name
Publisher Logo