04 Jan

Erin Andrews, Guy Fieri Headline Players Super Bowl Tailgate Super Bowl Pre-Game Party
The Players Super Bowl Tailgate with Erin Andrews & Guy Fieri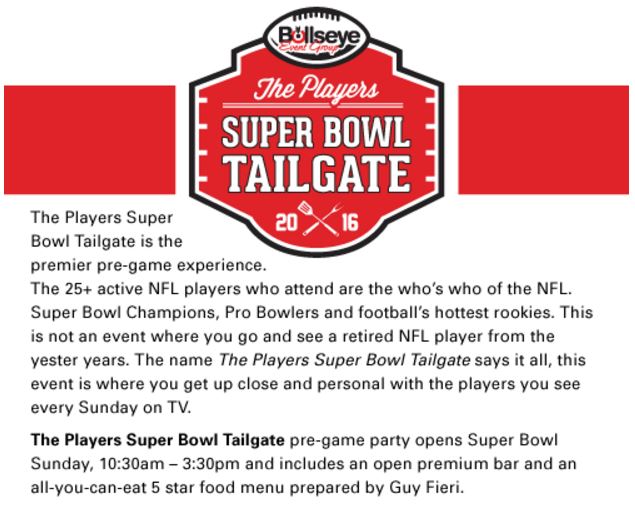 Get ready for the ultimate tailgate experience at Super Bowl 50 in 2016! The Players Super Bowl Tailgate pre-game party opens Super Bowl Sunday, 10:30am-3:30pm, and includes an open premium bar and an all-you can eat 5 star food menu prepared by Celebrity Chef Guy Fieri. Erin Andrews will host the event, and several athletes are expected to attend. Tickets can be purchased here.
Bullseye Event Group's exclusive Players Super Bowl Tailgate has earned a reputation as the best Super Bowl pre-game experience, where over 25 active NFL players, celebrities and guests eat, drink and get entertained before the Championship game. Described as a culinary experience in itself, The Players Super Bowl Tailgate features an open premium bar and all-you-can-eat dining with gourmet dishes that for this year's tailgate will be created by renowned Celebrity Chef Guy Fieri. Aaron May and Beau MacMillan will be assisting Guy in creating an outstanding menu. Guests enjoy a hospitality lounge lined with private tables, where they can watch ESPN's pre-game coverage broadcast on large lcd televisions.
Guy Fieri, the most recognizable Chef in America (as seen on the Food Network with shows such as Diners, Drive-Ins and Dives, Guy's Big Bite, Guy Off the Hook, Dinner: Impossible, Guy's Grocery Games, Rachael vs. Guy: Celebrity Cook-Off, The Next Food Network Star, Ultimate Recipe Showdown, The Best Thing I Ever Ate and Minute to Win It), will be creating an exclusive all-you-can-eat menu for the Players Super Bowl Tailgate attendees.
Guy Fieri's Players Tailgate Menu for Super Bowl 50:
SUPER STEAK SANDWICH STATION:
Slow roasted California beef sliced thin, served with balsamic onions, pepper jack, horseradish cream on garlic butter toasted sourdough torpedo rolls
WHOLE HOG THROWDOWN:
Caja china cooked whole hogs done up right in two tasty styles:Kahlua Pig "Sour or Sweet".
Slaw and sauce on soft Hawaiian rolls with crunchy crumbled chicharrones
LOW COUNTRY JAMBALAYA:
Cajun chicken sausage, gulf shrimp and smoked pulled chicken jambalaya with dirty rice.
Green onion and hot sauce bar
MAC DADDY MAC AND CHEESE BAR:
Selection of California cheeses, roasted veggies and slow cooked chili, bacon and other delicious toppings to make the perfect tailgate side dish
LIVE NACHO BAR:
Fresh fried tortilla chips, made fresh to order.
BEAU MAC'S KILLER RAW BAR:
Crab, lobster, peel and eat shrimp, chowder and more!
CHARCUTERIE AND SALADS:
Seasonal fruit, crudite, and the freshest selection of greens, mixed salads and specialty meats and local cheeses.
FLAVORTOWN FINALE:
S'mores Pie
Mega Rice Krispie treats
Doughnut Bread Pudding with Brown Butter Bacon Bourbon Glaze
PASSED APPETIZERS:
"Super Bowl 50 Meatball Madness"
Turkey, Beef and Pork Meatballs
Mexican Meatballs, roasted bell pepper, cotija, avocado
Old-Skool Italian Style, marinara, parmesan
American Slider, bacon, SMC, Donkey and LTOP
Falafel, "chickpea" meatball, tahini sauce
The Host and Emcee
Erin Andrews, host of the Players Super Bowl Tailgate, has solidified herself not only as a leader in sports broadcasting, but also as a nationally recognized television personality whose natural charm and beauty have earned her universal respect and admiration. As a member of FOX Sports "A-Team", Andrews currently reports as a featured host and sideline correspondent for FOX NFL Sunday, a show that records a staggering 56.4 million unique viewers per season. Additionally, Erin also lends her talents and unique perspective reporting for the MLB All Star Game as well as the World Series.
Also in Attendance
Over 25 current NFL players will be in attendance interacting with tailgaters at the Players Super Bowl Tailgate. The players will be interviewed by Erin on stage – which is always a fun time – but also signing autographs, taking pictures and talking with fans. There will be a great mix of players at the tailgate ranging from Pro Bowlers to Super Bowl participants.
What to Expect
Aside from gourmet food and a premium bar, the tailgate will feature a first-class space worthy of our signature pre-game Super Bowl party. Bullseye, at the Players Super Bowl Tailgate, will be creating a custom high-end hospitality center filled with private party areas, high top tables and soft leather furniture. The atmosphere will be one of a lush, luxurious lounge made especially for Bullseye's kind of VIP tailgating. Guests will experience ESPN Game Day Super Bowl pre-game coverage on large jumbo television screens and flat panel screens throughout the pavilion. There will also be a silent auction with unique, authentic NFL memorabilia.

Super Bowl Party Guide
To keep track of all the Super Bowl 50 Parties and events, make sure you visit Super Sunday HQ and get the mobile app, where you can scroll through all the star-studded parties, add Super Bowl events to your calendar, and connect with other Super Bowl 50 partygoers and VIP's. Follow the links to get the #1 Insider's Guide to the Super Bowl:
AppStore: Super Sunday HQ App
Google: Super Sunday HQ App