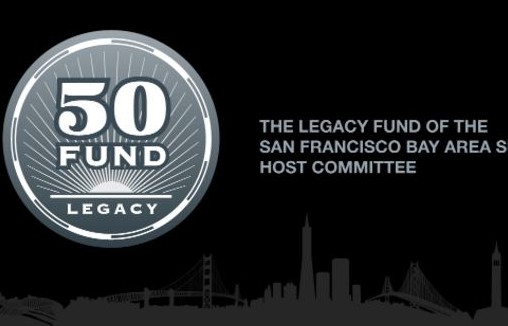 01 Dec

50 FUND GIVING SURPASSES $5 MILLION IN GRANTS MADE AND IMPACTS MORE THAN 300,000 BAY AREA YOUTH IN ONE YEAR

Launched a year ago on #GivingTuesday, 50 Fund— the legacy fund of the Super Bowl 50 Host Committee—has made grants totaling $5.2 million to 101 Bay Area nonprofits serving more than 324,000 youth. In addition, 50 Fund announced today that theapplication period is now open for the next round of its Game Changer grant program which will provide an additional $2 million grants to Bay Area nonprofits.

"It is fitting that as we celebrate #GivingTuesday, we acknowledge that we have reached an important milestone on our journey to be the most giving Super Bowl ever," said Jason Trimiew, Vice President of Community Relations for the Host Committee, "But there is still more to do, and we are committed to leaving a real legacy from this game with lasting impact."

The 50 Fund's flagship competitive grants program, Game Changer awards grants between $250,000 to $500,000 to well-run nonprofits with effective programs that have the potential for even greater impact. Open today, this final round will accept applications under its Community Investment or Sustainable Environment focus areas. Two million dollars is available with applications due on January 9, 2016 through www.50fund.org.

Since its inception a year ago, 50 Fund has focused on helping close the opportunity gap for low-income children, youth, and young adults through both competitive grant programs and signature initiatives. A complete list of grantees can be viewed at impact.50fund.org:

In addition to a $1 million legacy grant from the NFL Foundation, 50 Fund is supported by 25 percent of the corporate sponsorships that fuel the Super Bowl 50 Host Committee as well as the generous contributions of 'Friends of 50 Fund'—individual donors who want to leverage 50 Fund's rigorous due diligence with less than 1% overhead, and the unique platform that 50 Fund can lend to its grantees to bring greater visibility to their efforts.

In the final 67 days before Super Bowl 50, 50 Fund will announce a number of fan-facing initiatives that will invite residents of the Bay Area and beyond to help direct additional funding to grantees, share stories of impact on social media, and give to support signature initiatives like The Re(a)d Zone, 50 Fund's early literacy program.

About 50 Fund
50 Fund is the signature philanthropic initiative of the San Francisco Bay Area Super Bowl 50 Host Committee. Its goal is to help close the opportunity gap that exists for Bay Area children, youth and young adults living in low-income communities. Through its grant making programs, 50 Fund will support organizations and initiatives making a difference, tackling big issues and scaling their impact. For more information, visit www.50fund.org

About The NFL Foundation
The National Football League Foundation is a non-profit organization dedicated to improving the lives of those touched by the game of football – from players at all levels to communities across the country. The NFL Foundation represents the 32 NFL clubs and supports the health, safety and wellness of athletes, youth football, and the communities which support our game. For more information on The NFL Foundation, visit: www.NFLFoundation.org.