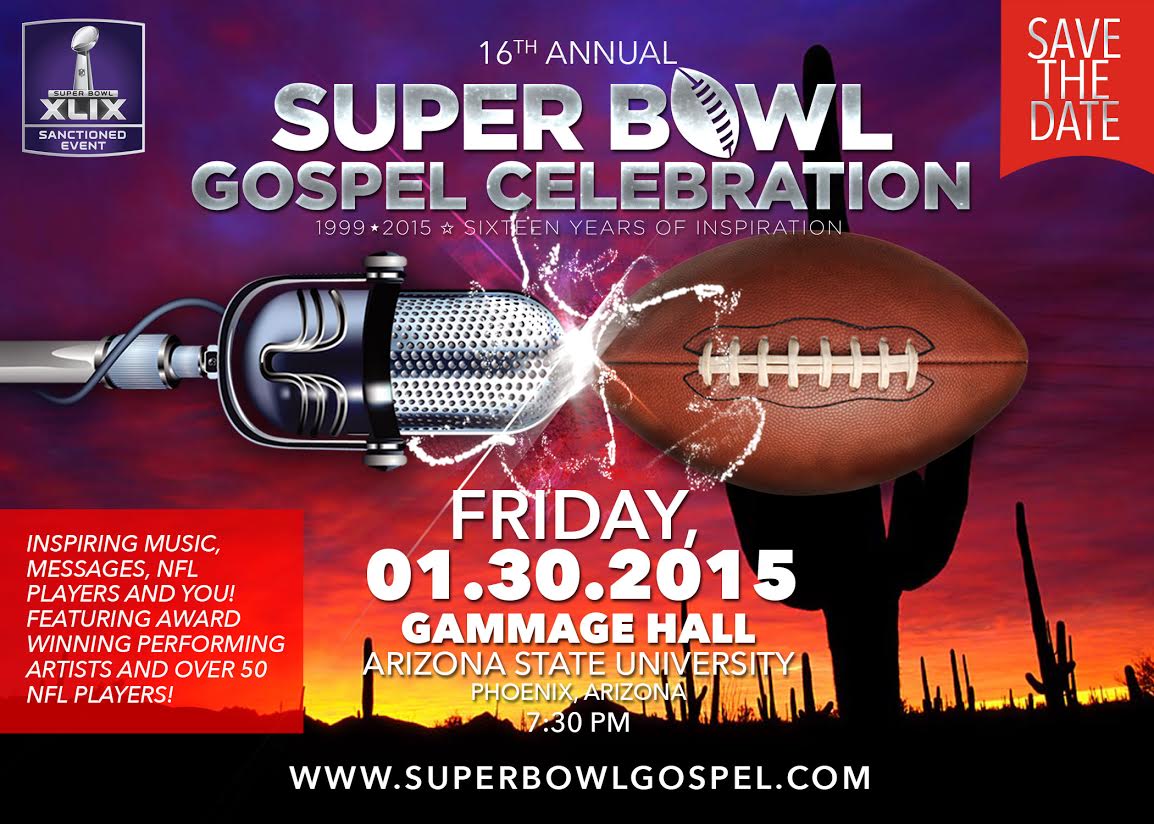 14 Dec

Super Bowl Gospel Celebration

Coming to Gammage Hall at Arizona State University in Phoenix on Friday at 7:30PM is the 16th Annual Super Bowl Gospel Celebration. A Super Bowl event fan favorite, this year's production should be an amazing experience.
Grammy Nominated Gospel Artist Natalie Grant, three-time Grammy winner, Donnie McClurkin, Mali Music, and prolific worship leader Israel Houghton are set to perform. The event also features the NFL Players Choir, which is the ONLY all NFL Players choir in the world! The choir made its debut in 2008 in Phoenix, AZ, Super Bowl XLII, with more than 40 NFL players under the direction of Grammy Award-winning gospel artist Donnie McClurkin.

Electrifying, empowering and enlightening, the Super Bowl Gospel Celebration combines all the excitement of Super Bowl Weekend with uplifting sounds to sooth the soul. From iconic artists inspiring you through song to marquee NFL players sharing their testimonies and talents, to the NFL PLAYERS Choir garbed in robes making a joyful noise to special guests that are always a welcomed surprise, the Super Bowl Gospel Celebration allows you to celebrate your love for football with the rich culture of gospel music.

From its powerful opening to its overwhelming close, the Super Bowl Gospel Celebration is an experience you won't forget. Grammy Award-winning artists bring it on with explosive performances singing their latest and greatest songs, those that touch your heart and take you to that place of peace. NFL players take the stage letting down their guard, shedding their rough and tough images, sharing inspirational messages and declarations of how their faith has brought them through, on and off the field. The thunderous voices of the NFL PLAYERS Choir ignite the stage singing a gospel favorite under the direction of one of the featured gospel artists. And you never know who will show up. Over the past several years, musicians, actors, coaches, political leaders and others have surprised the audience, and even the event producers.

The Super Bowl Gospel Celebration transcends the typical Super Bowl Weekend event, bringing together two extremes, the excitement of the Big Game and the jubilance of soul-stirring music, all under one roof, in one evening, on one accord. That's the Super Bowl Gospel Celebration…Bringing Inspiration to the Biggest Game on Earth!