18 Jan

PLAYERS AND PETS SUPER BOWL EDITION "BLACKOUT" CELEBRITY PARTY SUPER BOWL PARTY HOUSTON 2017


 PLAYERS AND PETS SUPER BOWL EDITION "BLACKOUT" CELEBRITY PARTY SUPER BOWL PARTY HOUSTON 2017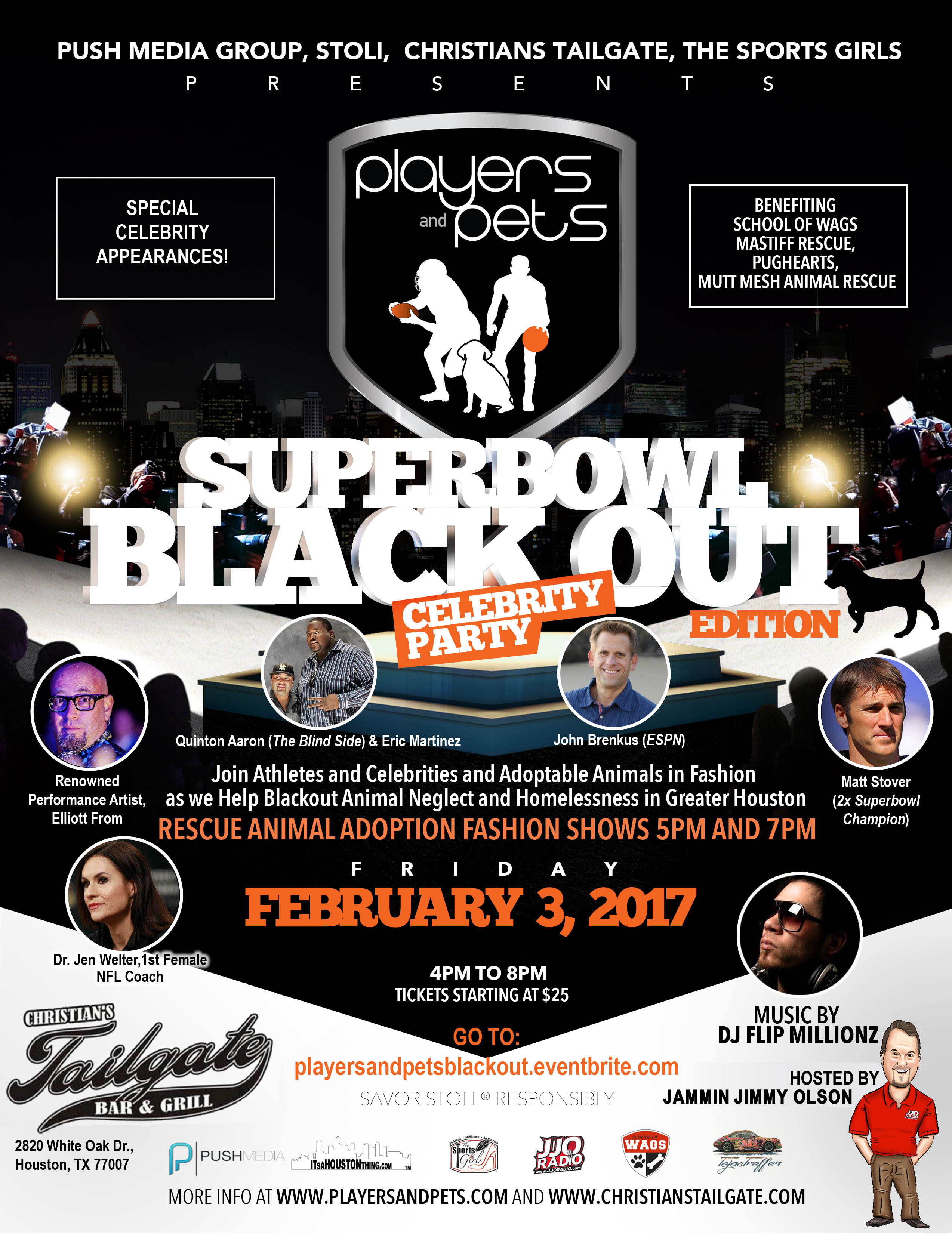 TICKETS: Purchase Tickets Here
LOCATION: 2820 White Oak Drive Houston, TX 77007 (Christian's Tailgate Bar & Grill)
TIME: 4:00pm to 8pm
COST: $25
ABOUT
From Push Media Group, Stoli, Christians Tailgate, The Sports Girls:
"Come join Athletes, Celebrities and News Personalities and some of the Push Media Group, The Sports Girls and Christians Tailgate Present Players and Pets BLACKOUT Super Bowl Edition to Benefit 3 Houston Animal Charities, School of Wags, Pug Hearts and Mutt Mesh Rescue. Hosted by Houston Radio Legend Jammin Jimmy Olson and music by National DJ and Recording Artist DJ Flip Millionz."
Confirmed to walk: Eric Martinez, Quinton Aaron (The Blind Side), Will Witherspoon, John Brenkus, Jen Welter, Matt Stover, Chloe Montgomery, Donovan Greer, Monica Abbott and more!
This is your chance to party along with, NFL Players, Pro Athletes, Celebrities and National and Local TV and Radio personalities as they walk animals up for adoption from all three Houston based animal rescues in their own "pet" fashions. This event is not only to raising funds for these charities involved, but to help promote our national cause of "BLACKING" out animal neglect and homelessness. Each year, so many animals die without a choice, now you can make a difference in their life  with a fun event and a great night in Houston.
Each year THOUSANDS of animals are left homeless from natural disasters, neglect and sometimes even owner surrender. Through many efforts such as ours, we can show people that these animals are just as good as purchasing an animal from a breeder. Our motto is that if these animals are good enough for professional athletes and celebrities, they can be good enough for you, too.
Come see two animal fashion shows at 5pm and 7pm where  athletes and celebrities  walk animals that need FUREVER homes and through your help, we can continue to help raise funds for all of these shelters to insure that no animal goes neglected or homeless.
During this event you will have the the chance to mingle with first class athletes and check out some of most exclusive Porsche Cars Courtesy of the folks Tejas Treffen Texas' Premier Porsche event in Downtown Houston.
With this event, like previous events, there are several levels of tickets and sponsorships available. A total of 4 special spots are available for this event, in which any guest can walk their own rescue animal with  athletes and celebrities. This applies to anyone who raises a minimum of $1000. Each one of these spots will go to the top 4 who raise  more than $1000 minimum."
TICKET PRICING
$25 GENERAL ADMISSION
$60 VIP Includes Sponsored Product from 4 to 5pm or 7 to 8pm

$100 VIP Includes Sponsored Product from 4 to 5pm and 7 to 8pm
$150 VIP Seated Animal Fashion Show Ticket with Open Bar with Sponsored Product from 4 to 5pm and 7 to 8pm

$175 VIP Meet and Greet with Athletes Prior to Animal Fashion Show and Open Bar with Sponsored Product from 4 to 5pm or 7 to 8pm
$500 VIP Table for 4 With 1 Bottle of Sponsored Product
$750 VIP Table for 8 with 2 Bottles of Sponsored Product
$500 INDIVIDUAL/CORPORATE/RESCUE ANIMAL SPONSOR WITH RECOGNITION OF SPONSORING THE ANIMAL 10 SPACES AVAILABLE.
$1000 MINIMUM INDIVIDUAL/CORPORATE "WALK WITH THE STARS" SPONSOR TO WALK YOUR OWN RESCUE DOG IN ANIMAL FASHION. NFL Players will walk you down the runway with your animal and you will also receive partners. LIMITED TO 4 PEOPLE AND TOP FUNDRAISERS.
(See website for full details)
ABOUT PUSH MEDIA GROUP
Organizer of Players and Pets Super Bowl Edition "Blackout" Celebrity Party
Push Media Group was founded in 2001 and has been a part of the professional media community for well over 25 years with award winning and sponsored photographers as part of their staff. The Push Media Group has also hosted some of the elite celebrity events with athletes and entertainers and to date has raised over 100,000 for various charities nationwide.
ABOUT STOLI
According to the Stoli website:
Stoli was founded in Russia's Tambov region where they currently still own farms. It is at these farms where they treasure wheat for a year giving it its gentle, grainy taste.
Stoli is distilled three times to yield the finest quality of Alpha spirit – the highest standard of Russian alcohol – this is the undiluted essence of Stolichnaya Vodka. It was Stoli who set this standard and have been upholding it ever since.
ABOUT CHRISTIAN'S TAILGATE BAR & GRILL
Voted "Best Burgers" in Houston with locations Downtown, Midtown, Energy Corridor, and the Heights.
ABOUT THE SPORTS GIRLS
"The Sports Girls" is a multimedia corporation for everybody who loves or wants to learn about sports via the athletes and coaches who live and breath sports every day. The Sports Girls are not the side line reporters, they are immaculate story tellers. Beth Silverberg is the host and creator of the Radio show and Podcast, "The Inside Score".
Summary
Event
​
Players and Pets Super Bowl Edition
Location
​
Christian's Tailgate Bar & Grill

,

2820 White Oak Drive

,

Houston

,

Texas

-

77007
Starting on
Ending on
Offer Price