28 Jan

DJ Pauly D at City Nights
DJ PAULY D at CITY NIGHTS
TICKETS TO ALL CITY NIGHTS EVENTS  WILL BE 50% OFF UNTIL WEDNESDAY, FEBRUARY 3 AT NOON!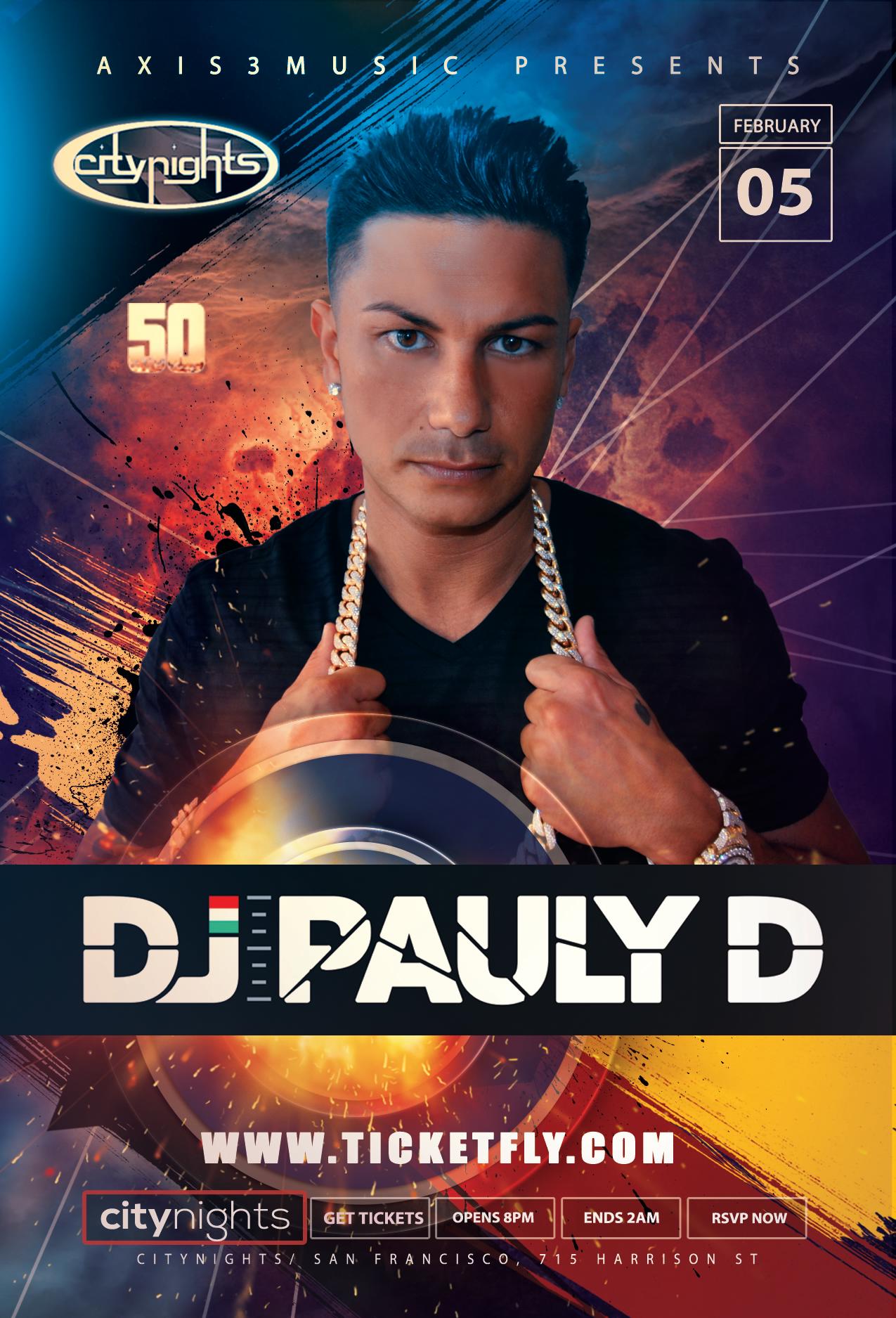 GET YOUR TICKETS HERE AND HERE!
Party with Pauly D and DJ Prince on Friday night at City Nights in San Francisco! General admission includes Open Bar and Hors d'Oeuvres. VIP includes with Open Bar from 8 pm until 2 am, VIP Food Spread, VIP Bottle Service available as well. Hottest wait staff in the Bay Area, best party in town for the price.
TICKET PRICES:
$300 General Admission (Concert & Afterhours)
Includes Admission Ticket, Hosted Bar -8pm to 2am, VIP Food Spread.
$125 After Hours Party – General Admission
2am to whenever. 
$2500 VIP BALLER – SILVER – Table For Four
Table of 4 (An order of 1 admits up to 4 people) 2 bottles Champagne, 1 bottle Vodka, 1 bottle Tequila.
$3750 VIP BALLER – GOLD – Table For Six
Table of 6 (An order of 1 admits up to 6 people) 4 bottles Champagne, 2 bottles Vodka, 2 bottles Tequila.
$5000 VIP BALLER – PLATINUM – Table For 10
Table of 10 (An order of 1 admits up to 10 people) 4 bottles Champagne, 4 bottles Vodka, 3 bottles Tequila.
*Service fees not included in above pricing.
Don't forget to keep track of all the Super Bowl 50 Parties and events. Make sure you visit Super Sunday HQ and get the mobile app, where you can scroll through all the star-studded parties, add Super Bowl events to your calendar, see exclusive party photos, and connect with other Super Bowl 50 partygoers and VIP's.
Follow the links to get the #1 Insider's Guide to the Super Bowl:
AppStore: Super Sunday HQ App
Google: Super Sunday HQ App
DJ Pauly D
Born in Providence, R.I., Paul "DJ Pauly D" DelVecchio is recognized for his musical talent as well as his reality star status on MTV's highest rated show, "Jersey Shore," which premiered in December 2009.
Pauly recently received recognition as the #8 DJ in America, but it did not come overnight. At the age of 16, long before his "Jersey Shore" fame, Pauly started as a DJ and that is where his passion remains. He has spent years honing his skills to fine art. His eclectic track selection, unique style and infectious personality captivate crowds around the globe. Pauly is now one of the most sought after DJs in the world.
Pauly's music library spans nearly every genre of club music and he has the exceptional ability to mix in and out of top 40 and house music, introducing an entirely new demographic to quality dance music.
DETAILS:
PAULY D FROM THE HIT MTV SERIES THE JERSEY SHORE
City Nights: 715 Harrison St., San Francisco, CA
Friday Feb 5, 2016
8:00 PM (ends at 2:00 AM)